STEM
Volunteers wanted to drive new hybrid research cars
Clean Communities of CNY, the local chapter of the U.S. Department of Energy's Clean Cities Program, recently placed two Prius Plug-in Hybrid (PHV) vehicles with Syracuse University as part of Toyota Motor Sales, USA, Inc.'s U.S. plug-in demonstration program. Clean Communities of CNY is managing the local demonstration program, which entails recruiting and selecting volunteers from the SU community to drive the cars as a substitute for their own vehicles. As volunteers drive the Prius PHVs, use and performance data are recorded and then transmitted daily to a third party for analysis by Toyota to make decisions about bringing the vehicle to market.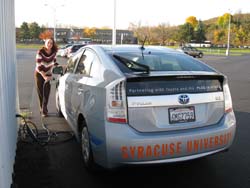 Volunteers are now needed to drive this new type of hybrid car—a vehicle not even on the market yet—as part of the worldwide research program. If chosen, drivers will only need to pay for the gasoline used and electricity to recharge the car's battery. 
The Prius PHV is capable of running solely on electricity for approximately 13 miles at speeds of more than 60 mph, at which point it operates as a conventional Prius hybrid. The car's battery takes about three hours to recharge using a standard 110V electrical outlet. 
"It is important to the U.S. DOE and Toyota to have real-world feedback on the acceptance and performance of plug-in hybrids," says Barry Carr, coordinator of Clean Communities of CNY. "In Central New York, we have a variety of commuter patterns and weather issues that will provide valuable information to Toyota." 
Two new PHV volunteer drivers will be rotated every two months for the next 12 to 24 months. Any SU student, faculty or staff member may apply to become a volunteer PHV driver. There is no up-front cost to participate. Drivers must sign a contract with Clean Communities of CNY and attend a brief orientation session before receiving the car keys. Other qualifications include:
age 21 or older and licensed to drive (2 years history, minimum);
clean driving record;
current insurance;
currently have a car registered to park at SU;
charge the PHV's batteries overnight as practical (have access to a standard 110V electrical outlet at home);
provide gasoline as required; and
participate in an online Toyota survey at the beginning of the program and again during the two-month demonstration. 
Only the accepted program volunteers may drive the PHVs. Drivers may use the cars for commuting to and from campus and for any other University or personal business. Toyota wants the cars to be driven in normal, everyday situations. Data about fuel economy, miles driven and charging times will be available online beginning in early 2011. 
Insurance coverage on the cars is provided by Toyota of North America. Vehicle maintenance and service will be paid for by Clean Communities of CNY through local Toyota dealers. The vehicles must be surrendered to Clean Communities of CNY at the end of the two-month driving period for the next driver evaluation, or upon request. 
"Clean Communities of CNY has been great to work with," says Rick Martin, principal sustainability analyst with SU's Sustainability Division. "I'm glad they decided to recruit their drivers from the SU community. It's also great that Toyota has agreed to share the vehicle performance data with SU. In a year or so, students and faculty will be able to access it for research and teaching purposes." 
The first two SU volunteer PHV drivers currently are Tanya DiPietro, assistant energy conservation manager with Energy and Computing Management, and Melissa Cadwell, marketing manager with the Sustainability Division. They have had the cars since early September; the next two drivers chosen will begin their test drives in November. 
"This Prius is great on gas," says DiPietro. "I normally drive a huge SUV and spend $60 to fill the tank each week. I went nearly four weeks before I had to fill the Prius tank just once and it only cost $20. It's fun to see how far I can stretch it before I have to fill up with gas again." 
To become a PHV volunteer driver, simply complete a short online application form available at http://www.surveymonkey.com/s/QBRYGVK. Clean Communities of CNY will choose a mix of drivers according to specific criteria such as driving routines and daily commuting distances. Selected applicants under active consideration will be contacted by Clean Communities of CNY via e-mail for more detailed screening. 
As part of the local demonstration program, Clean Communities of CNY also placed two Prius PHVs with both the Syracuse Center of Excellence (SyracuseCoE) and CuseCar, a local community-based car-sharing organization. Clean Communities of CNY chose to partner with SU, SyracuseCoE and CuseCar because of each organization's commitment to sustainability and ability to reach potential volunteers with diverse driving patterns. Toyota's worldwide demonstration program consists of 600 cars and includes 150 here in the United States.