Arts & Culture
Artist Theodora Skipitares to present lecture Oct. 19
Artist Theodora Skipitares, whose performance work often takes the form of large-scale productions, will present a lecture on Tuesday, Oct. 19, at 6:30 p.m. in Shemin Auditorium in the Dorothea Ilgen Shaffer Art Building. The lecture is sponsored by the Department of Art in the College of Visual and Performing Arts' (VPA) School of Art and Design.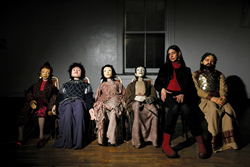 Trained as a sculptor and designer, Skipitares began experimenting with performance in the 1970s. Originally autobiographical in nature, her pieces slowly began to incorporate small likenesses of herself. These first puppets eventually became the sole performers in her work and now range from life-sized to miniature, naturalistic to hauntingly wooden.
Skipitares' work has expanded to include social and historical subjects, such as eugenics, the history of American inventions and women in prison. Her performances often include music, film, video and documentary text.
Skipitares is the recipient of many awards, including the UNIMA Citation for Excellence in Puppetry, a Guggenheim fellowship, a Rockefeller fellowship, a McKnight Playwriting fellowship and a Fulbright fellowship. She is currently an associate professor at the Pratt Institute, where she teaches art and design education. Learn more at http://theodoraskipitares.com.
For more information about the lecture, contact Stephen Zaima, professor of painting, at (315) 443-4613 or szaima@syr.edu.