Arts & Culture
'The 39 Steps' kicks off Syracuse Stage season
Gunshots, murder, and dastardly plots; seductive spies, thrilling chases and serious flirtation; they're all part of the rollicking comedy/mystery and two-time Tony Award-winning Broadway hit "The 39 Steps." Based on the 1935 classic film by Alfred Hitchcock, "The 39 Steps" follows Richard Hannay as he sets out for a night of music hall entertainment, only to be ensnared in a dangerous attempt to smuggle top-secret information out of the country.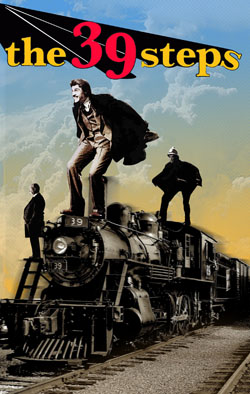 Four actors and ingenious and inventive staging prove that anything movies can do, theater can do more hilariously. Said The New York Times, "Absurdly enjoyable! This gleefully theatrical riff on Hitchcock's film is fast and frothy, performed by a cast of four that seems like a cast of thousands."
"The 39 Steps" will run Oct. 20-Nov. 7 at Syracuse Stage, marking the start of Stage's 2010-11 mainstage season. Sponsors are M&T Bank and Pomco Group. Media sponsors are WAER and WCNY. Syracuse Stage season sponsors are the Post-Standard and Time Warner Cable. Tickets for "The 39 Steps" range from $16-$48, and are available at (315) 443-3275 or http://www.SyracuseStage.org.
"The 39 Steps" premiered in London in 2006, won a 2007 Laurence Olivier Award in 2007 for Best New Comedy, and won two Tony Awards when it transferred to Broadway in 2008. Now playing off-Broadway at the New World Stages, the play features four actors performing 150 different roles. "The 39 Steps" at Syracuse Stage is a co-production with Cleveland Play House, where it received critical acclaim earlier this fall.
Returning to Syracuse Stage is director Peter Amster, director of Stage's "This Wonderful Life" and "The Fantasticks," as well as actor Rob Johansen, whose Syracuse Stage credits include Mortimer in "The Fantasticks," Jim Casy in "The Grapes of Wrath" and the butler in "The Unexpected Guest." Other cast members include Joe Foust, with extensive Chicago credits (Steppenwolf Theatre Company, Goodman Theatre, Chicago Shakespeare Theatre, among others); Sarah Nealis, who has performed at major regional theaters across the country; and Nick Sandy (as the protagonist Richard Hannay) with extensive Chicago credits, including a Jeff Award and several Jeff Award nominations.
Says Amster: "If you're looking for a rollicking good time and laughing until your sides hurt, this is for you. It's Hitchcock meets Monty Python. The actors are not only very accomplished actors, they are shameless clowns, everyone one of them."
One hour before every public performance, an actor from the production will be available in Stage's lobby for "Prologue," an intimate pre-show conversation. "Prologue" is supported by the Grandma Brown Foundation.
Local connection—'Hitchcock in Syracuse'
This October, the Syracuse International Film Festival (SYRFILMFEST'10) and Syracuse Stage will present "Hitchcock in Syracuse," a series of events related to the work of the great filmmaker Alfred Hitchcock. Signature events will be SYRFILMFEST'10's screening of "The Lodger" on Oct 15, featuring live music performed by jazz saxophone player Javon Jackson; and Syracuse Stage's "The 39 Steps." To attend events at the Syracuse International Film Festival, visit http://www.syrfilmfest.com.
Special Events
M&T Bank Pay-What-You-Can Series: Tuesday, Oct. 19, at 7:30 p.m. to watch the final dress rehearsal. $9 suggested donation, tickets available at the door one hour prior to curtain.
LGBT Pride Series: Thursday, Oct. 21, one hour before the 7:30 p.m. show. Food, music & friends.
LIVE in the Sutton Series: Friday, Oct. 22, live music following the 8 p.m. curtain.
Actor Talkback Series: Sunday, Oct. 24, following the 7 p.m. show.
Wednesday @ 1 Lecture Series: Wednesday, Oct. 27 at 1 p.m.
Welch Allyn Signed Performance Series In Memory of Susan Thompson: Saturday, Oct. 30, at 3 p.m.
Open Caption Series: Wednesday, Oct. 27, at 2 p.m. and Sunday, Nov. 7, at 2 p.m.
Happy Hour Series: Thursday, Oct. 28, one hour before the 7:30 performance. Half-price bar drinks and complimentary snacks.
Special event programs are additionally funded by the Doris Duke Charitable Foundation/The Andrew W. Mellon Foundation and administered by Theatre Communications Group, the National Organization for the American Theatre.