'Tapped' documentary on bottled water to be shown on campus Oct. 10; includes reusable water bottle giveaway
Bottled water is the fastest-growing beverage category in the United States with sales of more than $10 billion, and 8.6 billion gallons consumed annually. But what are the costs to the environment and our wallets? These issues and more are explored in the film "Tapped," which will be shown on Sunday, Oct. 10, at 8 p.m. in room 201 of the Goldstein Student Center on Syracuse University's South Campus. Admission is free and open to all students, faculty and staff.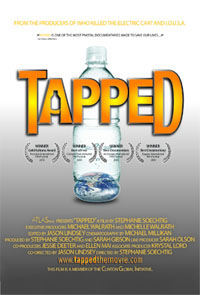 "Tapped" examines the unregulated and unseen big business of bottled water. It raises the question of whether access to clean drinking water is a basic human right or a commodity that should be bought and sold. The film also delves into the environmental effects of the bottled water industry, such as plastic production, the Pacific Garbage Patch and recycling. 
The screening will coincide with 350.org's international 10/10/10 Global Work Party, a day to celebrate climate solutions and urge governments, businesses and individuals to cut their CO2 emissions by 10 percent in 2010. Everyone attending the movie will receive a free reusable water bottle courtesy of SU's Sustainability Division. Immediately following the movie, attendees will be asked to assemble in Goldstein's atrium for a group photo that will be submitted to 350.org in support of the 10/10/10 event. 
Two other local Global Work Party events scheduled for Oct. 10 are a bike parade leaving from Syracuse Real Food Co-op at 10 a.m., and a community potluck lunch in Thornden Park, starting at noon. 
"Our hope with 'Tapped' is that students will be inspired to make changes with their own behavior, and to challenge their individual communities to do the same," says Keenyn Wald, assistant residence director for South Campus Apartments. "The screening of this documentary is only one aspect of our 'Tap into Water' campaign, which includes many facets of water use. The goals are that people will gain new information and alter their behavior for the betterment of generations to come." 
"Although bottled water is convenient, it's relatively expensive for what you are purchasing, and it is not the best consumption option from a sustainable standpoint," says Melissa Cadwell, marketing manager for SU's Sustainability Division. "We are fortunate to have wonderful-tasting tap water at the University and in Central New York. I believe the movie 'Tapped' will enlighten students about the environmental impacts of bottled water on our planet, and prompt many of them to start using reusable bottles filled with tap water." 
"Tapped" is from the producers of "Who Killed the Electric Car?" and "I.O.U.S.A.," and directed by Stephanie Soechtig, a former producer of documentaries for "20/20" and "Primetime Live." 
The "Tapped" screening is sponsored by SU's Office of Residence Life. For facts about bottled water, visit http://www.onlineeducation.net/bottled_water.