Campus & Community
SUArt Galleries opens its private collection to the public in Open Storage Galleries
Dating back to 1874, the Syracuse University Art Collection is one of the oldest university collections in the country. More than 45,000 objects make up the collection, which includes American and European art, and Chinese, Pre-Columbian, Korean, Japanese, African and Asian Indian materials.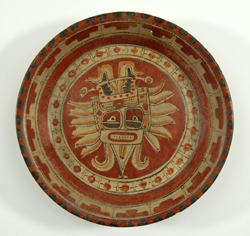 Recent renovations in the SUArt Galleries in the Shaffer Art Building now enable visitors to see pieces of the University's private collection never before unveiled to the public. The reconstruction has turned a once-closed facility into an open storage space allowing visitors to examine more than 1,450 ethnographic objects. These unique art objects illustrate cultures and time periods in Asia, Europe, Africa and the Americas. Additional spaces contain further collections of sculpture, glass and ceramics, creating a loop that allows visitors to view the artwork in one continuous direction.
Construction in the West Galleries has also created an area to exhibit American objects from the permanent collection. Opening this fall, a selection of notable paintings, prints, drawings and sculpture examining American cities and their inhabitants will also be open for public viewing. An adjacent exhibition space will display important examples of American sculpture, glass and ceramics.
Other permanent collection exhibitions opening this fall include "Impassioned Images: German Expressionist Prints," and "Monument to a Warlord: Photographs of Nikko and the Temple of Ieyasu." The first reviews the major artists and approaches to the expressionist aesthetic in the early 20th century, and the second presents 40 19th-century hand colored albumen prints that highlight a tour of Nikko, the final resting place of Ieyasu Tokugawa, Japan's first shogun of the Edo period. The exhibition's design provides an experience similar to that of a 19th-century visitor's tour of the Tosho-gu, the emperor's burial complex. These exhibitions will be installed in the print and photo study galleries, respectively, and will be on view throughout the academic year.
The gallery now has a re-designed online search engine, allowing easy access to viewing the collection. Log on to http://suart.syr.edu and click the 'collections' link to mine through the world-class collection of art and art objects. The SUArt Gallery is open to the public Tuesday-Sunday from 11 a.m.-4:30 p.m., and on Thursdays 11 a.m.-8 p.m. For more information, email suart@syr.edu or call 443-4097.