Veterans
Syracuse University alumnus to be focus of '60 Minutes' Sunday, Oct. 17
A homeless veterans program spirited by Syracuse University alumnus Jon Nachison, '74, '76, '81, will be the focus of a CBS "60 Minutes" segment, Sunday, Oct. 17. The segment takes an inside look at a homeless veterans encampment program held annually in San Diego, where soldiers returning from Iraq and Afghanistan find hope and help in starting their lives over. The program, called Stand Down, was co-founded by Nachison and Canandaigua, N.Y. native Robert Van Keuran, both Vietnam-era veterans.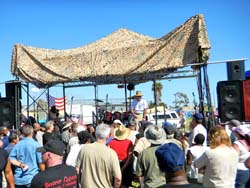 "Robert and I were doing programs for veterans and we were checking the demographics for people," says Nachison. "We continued to see more and more people were listing themselves as homeless in 1986 and 1987. But no one was talking about it." The duo created the program with Vietnam Veterans of San Diego in 1988 to level the playing field for the homeless.
"We had planned on doing it one time," Nachison adds, "and here we are 23 years later."
"Stand down" is a war term used when wearied soldiers are removed from battle and placed in a safe haven to rest and recover. At secure camps, troops can shower, eat warm meals, receive medical attention and letters and enjoy the camaraderie of friends in a safe environment.
Now, the term is additionally used to represent the growing grassroots, community-based program that helps an estimated 107,000 homeless veterans across the United States. As part of the Stand Down program, veterans are brought together for one to three days in a defined location, where they are given relief from the trauma and isolation of homelessness, food and shelter, and medical and psychological treatment when needed. They are also given community resources and support in finding long-term solutions to address their needs to help them begin to rebuild their lives.
"Right now the best data we have is that one-quarter of all the homeless people we have are veterans," says Nachison. "One third of all the homeless males are veterans. That's a national disgrace."
More than 1,000 Stand Downs have been held since the original event in San Diego in 1988. The program is funded by the donations of business and thousands of volunteers, many of whom are former participants in the program. Currently, more than 170 Stand Downs are held each year across the country. It's estimated in 2009 alone, more than 42,000 homeless veterans received assistance.
Nachison hopes someday there'll be no need for Stand Downs. "I'm looking forward to the day when we have a Stand Down with no participants," he says. "Everyone's there to volunteer and we just party for three days."
CBS" 60 Minutes" correspondent Scott Pelley interviews Nachison about his program and passion to help veterans. The segment was shot this summer in San Diego. The piece airs Sunday on CBS at 7 p.m. (EST).