Campus & Community
Music industry executive Shanti Das '93 to present lecture, book signing Oct. 28
Shanti Das '93, an accomplished music industry executive and founder and CEO of PressReset.me, an Atlanta-based marketing, consulting and life-mentoring firm, will present a lecture on Thursday, Oct. 28, at 6:45 p.m. in Lender Auditorium, located at the Whitman School of Management. The lecture will be followed by a book signing and sale of Das' new book, "The Hip-Hop Professional: A Woman's Guide to Climbing the Ladder of Success in the Entertainment Business."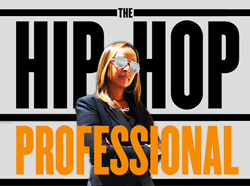 An alumna of the S.I. Newhouse School of Public Communications, Das has held senior management positions with such record companies as Arista, Columbia, Sony Urban Music and Universal Motown. Four months after graduating from SU, she was hired as the national director of promotions at LaFace Records, where she developed innovative promotional campaigns for Outkast, Goodie Mob, Usher, TLC and Toni Braxton, among other artists.
Das' numerous distinctions include Impact Magazine's "Music Executive of the Year" and the National Association of Black Female Executives in Music & Entertainment's "Executive of the Year." She was also honored by the Women in Entertainment Empowerment Network with its 2009 Mission Award for her service of mentorship and empowerment for young women.
The lecture is part of the Soyars Leadership Lecture Series in the College of Visual and Performing Arts' Rose, Jules R. and Stanford S. Setnor School of Music. For more information, contact the Setnor School's Bandier Program at (315) 443-1388.