Campus & Community
SUArt Galleries to present 'Run and Tell That!'
The Syracuse University Art Galleries will present "Run and Tell That! New Work from New York" from Nov. 9-Jan. 9, 2011. A gallery reception will be held Thursday, Nov. 11, from 5-7 p.m. A moderated panel discussion with the artists in the exhibition will take place Thursday, Nov. 11, from 3-5 p.m. in Shemin Auditorium, Shaffer Art Building, adjacent to the SUArt Galleries.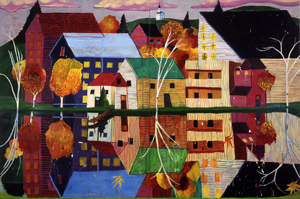 "Run and Tell That! New Work from New York" presents, for the first time in Syracuse, recent and new work by 21 young New York City artists. Included in the exhibition's wide array of media are several installation pieces created specifically for the SUArt Galleries. Co-curated by SU alumnus Eric Gleason '05, sales director at Marlborough Chelsea, and David Prince, associate director at the SUArt Galleries, the show illustrates conceptual and aesthetic trends in contemporary art. (At left: I'm All Around You Now (2009), Ryan Schneider)
Synonymous with "spread the word," Run and Tell That!" is a phrase attributed to Antoine Dodson of Huntsville, Ala., whose flamboyant July 28, 2010, television interview following the attempted sexual assault on his sister, quickly became an internet sensation. The phrase has since been integrated into contemporary vernacular; a phenomenon that could only happen now, in a time when information is digested and distributed constantly via the World Wide Web. The artists in "Run and Tell That!" take advantage of this wide spectrum of media to develop a conceptual focus that characterizes this younger generation.
Painters Kamrooz Aram, Steven Charles, Inka Essenhigh, Aaron Johnson, Liz Markus, Tom Sanford, Ryan Schneider and Aya Uekawa use personal experience, art history, abstraction and social commentary to keep the medium fresh and relevant. Sculpture becomes a widely encompassing term as pieces by Robert Lazzarini, Diana Al-Hadid, Will Ryman and Ethan Greenbaum broaden the definition. In the series of 13 prints entitled "Ars Magica," William Powhida continues his astute satirization of the art world by likening it's practices to sorcery. In her "Mother Goddess" series, Turkish photographer Pinar Yolacan examines pre-neolithic deity figures that were the archetype of beauty in her geographic region thousands of years ago.
Site-specific installations include a first-time collaboration between Greenbaum and Adam Krueger; a dynamic wall-length installation in which a tree violently emerges from a Hudson River School painting by Valerie Hegarty; Virginia Overton's minimal trompe l'oeil construction using only an eight-foot 2 x 4 and two sheets of mirrored plexiglas; Vlatka Horvat's repurposed ceiling fan and aluminum ladder; and individual projects by Wade Kavanagh and Stephen B. Nguyen, whose monumental collaborative installation "White Stag, 2010" is currently on view at Mass MoCA.
Also in the exhibition will be "Rashaad Newsome: Video and Performance, 2005-2010," an intimate retrospective of the artist's multi-media work exploring innovative forms of communication and expression in contemporary African American urban culture. This work was recently featured in the 2010 Whitney Biennial and in Greater New York 2010 at the PS1 Contemporary Arts Center, Long Island City, N.Y.