Arts & Culture
Syracuse Architecture, Light Work to co-host lecture by acclaimed photographer Richard Barnes
Photographer Richard Barnes, known for his exploration of architecture within the context of archaeology and how human beings interact with their natural environment, will speak at the Syracuse University School of Architecture on Tuesday, Nov. 2, at 5 p.m. in Slocum Hall Auditorium. His lecture, "Animal Logic and Recent Projects," is co-sponsored by Light Work. The lecture is free and open to the public. A reception will follow in the Slocum Hall Gallery.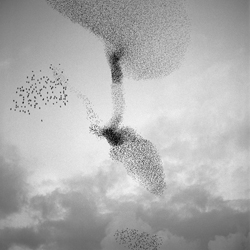 Barnes' work challenges our conceptions of the way we inhabit and represent the built environment. His recent work, "Phylum and Refuge," looks at the hybrid architecture of a collection of bird nests constructed of materials humans throw away, such as Christmas tinsel, hair and dental floss. The nests hover ambiguously between the natural and the artificial. This work is the basis of Barnes' book, "Animal Logic" (Princeton Architectural Press, 2009) and his receipt of the Rome Prize from the American Academy in Rome in 2005. His work from Rome resulted in the exhibition "Murmur (Flow Room)," cited by Art Forum magazine in its "Best of 2007" exhibitions for the year.
In the 1990s, Barnes worked as the photographer for the joint Yale/University of Pennsylvania excavations at Abydos, Egypt. He was also commissioned by the Fine Arts Museums of San Francisco to document the renovation of the California Palace of the Legion of Honor, with funding by the National Endowment for the Arts. The project evolved into an investigation into the largest post-gold rush era cemetery ever excavated. The resulting exhibition, "Still Rooms & Excavations," was shown throughout the United States.
In 1998, Barnes was commissioned by The New York Times Magazine to photograph the cabin of Ted Kaczynski, aka the Unabomber. This work was later shown at the Triennial of Photography in Hamburg, Germany, and at the 2006 Whitney Biennial. Barnes was awarded the Alfred Eisenstadt Award in Photography for this work.
Barnes' photographs are in numerous public and private collections, including the Metropolitan Museum of Art, the Philadelphia Museum of Art and the Harvard Photographic Archive. In addition to his photography, Barnes has lectured extensively, including such venues as the Carnegie Museum of Art and the Graduate School of Design at Harvard University. He has worked as adjunct professor/visiting artist at the San Francisco Art Institute, and at the California College of the Arts (CCA) in San Francisco.