STEM
Syracuse iSchool, Polaris Library Systems announce collaboration to develop new technologies and services
Polaris Library Systems, a leading provider of library automation technology, is joining forces with the Syracuse University's School of Information Studies (iSchool), which is ranked No. 1 in information systems among all U.S. library and information science schools. The collaboration seeks to improve technological and information services available to libraries and to provide more research and professional development experiences for iSchool students.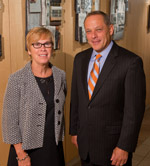 "We're thrilled to be collaborating with the leader in library information systems," says iSchool Dean Elizabeth D. Liddy (pictured with Jim Carrick, chairman of Polaris Library Systems). "This is a mutually beneficial relationship that will advance services available to the public at libraries, and at the same time will provide meaningful research and work experiences for our students. I expect to see significant innovations emerge from this collaboration."
In the collaboration, iSchool students, faculty and researchers will work directly with the staff at Polaris Library Systems to develop innovative technology and product offerings. Polaris leaders will also work with iSchool faculty to bring invaluable industry experience into the classroom so that iSchool students graduate with the capabilities needed to be successful in the work environment. The relationship will also create a pipeline of student talent for internships and full-time employment opportunities at Polaris.
A key aspect of the collaboration involves the implementation of the Polaris Integrated Library System (ILS) test environment at the iSchool for education and research this fall. This system will be an integral hands-on part of the iSchool's library systems course, in which students will brainstorm new applications and test them on the Polaris system.
Polaris and the iSchool also plan on creating an Idea Generation Board, consisting of faculty and researchers from the iSchool and staff members from Polaris. There are also plans for a summit to imagine new services and generate research and development projects.
"We're excited to partner with the leading information systems school in the country to create meaningful solutions for libraries and to develop the skills of the next generation of library leaders," says Polaris President & CEO Bill Schickling. "This collaboration will connect the talent and experience of both organizations to benefit libraries, communities and library education."