Campus & Community
Orange Central Showcase features thematic programming, high-profile personalities, premiere screenings and exhibitions
The Orange Central Showcase further enhances an already exciting week on the Syracuse University campus during the annual Orange Central celebration Oct. 10-17. A series of special core presentations and thematic programming features such high-profile personalities as MSNBC anchor Contessa Brewer '96, E Street Band/ former Conan O'Brien drummer Max Weinberg, former newscaster Mark McEwen, "Flags of Our Fathers" author James Bradley and NPR's Lakshmi Singh '94.
SU students, alumni, faculty, staff and friends are invited to attend Orange Central Showcase events to get a first-hand look at the great things happening as a result of SU's longstanding commitment to disability rights and inclusiveness, support for the nation's veterans and active military, and the arts.
From panel discussions to film premieres to video art installations, see how the University is bringing education and research together, generating new ideas and knowledge and creating positive change in the local community, across the country and around the globe.
Americans with Disabilities Act 20th Anniversary Celebration
Mark the 20th anniversary of this landmark piece of legislation, and SU's work in inclusive education, with special programs presented by the School of Education, Burton Blatt Institute, Lawrence B. Taishoff Center on Inclusive Higher Education and 2010 Syracuse International Film Festival.
The Art of Inclusion
Thursday, Oct. 14, 5:30 p.m.
Archbold Theatre, Syracuse Stage/SU Drama Complex, 820 E. Genesee St., Syracuse
Free admission; tickets required, pickup at Syracuse Stage Box Office beginning 10 a.m. morning of event
Limited free parking at Stage lot; shuttles available from Booth and University Ave. garages and Goldstein Alumni and Faculty Center

The evening features the red carpet premier of "People Like Me," a new documentary on the Young Actors Workshop, an innovative program that teaches movement, voice and acting skills to student actors with special needs in the Syracuse community. The workshop offers a two-way street of learning, helping community actors to discover their creativity and individual strengths, and allowing undergraduate drama students from the College of Visual and Performing Arts (VPA)—who facilitate the group—the opportunity to learn from the actors. Classes offer exercises that encourage the actors to have the confidence to express themselves with physical and vocal freedom.
The documentary was created by Larry Elin '73, Steve Davis and Douglas Quin, professors in the S.I. Newhouse School of Public Communications, who were awarded a grant from the Burton Blatt Institute (BBI) to hire Sujeet Desai, an accomplished musician with Down syndrome and former member of the Young Actors Workshop, to perform new music for the film. Working closely with composer and musician Nathaniel Stein, a senior in VPA, Desai played a variety of instruments for the soundtrack.
Stephanie Weldon Leimbacher '95, founder of the Young Actors Workshop, will introduce the film. A panel discussion will follow the screening, moderated by Brewer. Panelists will discuss the role of the arts in inclusive education and the opportunities they offer individuals both with, and without, disabilities.
Panelists include:
Sindoor Desai, mother of musician Sujeet Desai, who has practiced dentistry for 40 years and changed her entire outlook when her son was born with Down syndrome, writing three papers published in dental journals on the "Myths of Uniformity About Down syndrome;
Elizabeth Ingram (pictured), VPA professor and faculty advisor for the Young Actors Workshop, whose daughter, Becci, was born with Down syndrome and became the workshop's first participant;
Katherine Glover, original member of the workshop;
Chris Gedney '92, parent of a daughter with Down syndrome who serves on the National Down Syndrome Society's board of directors; and
Jordan Hunter Siegel, senior in VPA and current head student facilitator for the workshop.
A reception will be held after the event, hosted by SU Trustee Capt. Robert Taishoff '86 (U.S. Navy ret.) and Laurie Bean Taishoff '84, a member of the executive committee of the SU National Alumni Association. Their gift to the School of Education established the Taishoff Center, formed to improve educational outcomes for students who might not traditionally be included in the higher education environment.
Higher Expectations for Higher Education
Friday, Oct. 15, 9 a.m.
Joyce Hergenhan Auditorium, Newhouse 3, SU campus
Free admission; no tickets required
Free parking at Waverly lot and Booth and University Ave. garages

After former news correspondent and CBS's "The Early Show" weatherman Mark McEwen fought his way back from a massive stroke, he became a crusader for stroke victims and their families. He will moderate a panel discussion on the importance and advantage of providing higher education opportunities for students with disabilities and how model institutions can and should operate, including discussion of SU's efforts to make college campuses accessible and the innovative role the University plays in promoting inclusive education, including the Taishoff Center.
Brian P. McLane '69, 2010 Arents Award recipient,  who was born with cerebral palsy and learned at an early age not to accept limits on his abilities, will introduce the program. McLane is executive director of BBI and president and founder of Paradigm Solutions, a consulting firm helping individuals in the area of creative problem solving, community and government relations, and networking.
Panelists include:
Wendy Harbour, Lawrence B. Taishoff Professor for Inclusive Education and executive director of the Taishoff Center;
Thomas Hehir G'73, professor of practice in Harvard University's Graduate School of Education;
John Robinson '90, founder of Disability Education Forum of New York (DEFNY), a not-for-profit organization dedicated to educating people in schools and businesses about people with disabilities; and
Liat Ben-Moshe, coordinator of SU's Disability Cultural Center Initiative and a doctoral candidate and instructor in sociology, disability studies and women's studies.
"Defining Beauty: Ms. Wheelchair America"
Saturday, Oct. 16, 12:30 p.m.
The Palace Theater, 2384 James St., Syracuse
Tickets are $8 and can be purchased at the theater or visit http://www.syrfilmfest.com

The 2010 Syracuse International Film Festival will screen this documentary by Alexis Ostrander '07 about remarkable contestants as they compete for the crown of Ms. Wheelchair America during nationals in South Dakota. As in a traditional beauty pageant, Ms. Wheelchair America strives to show the inherent beauty in women, while also competing on the pillars of "advocacy, achievement, communication and presentation to select the most accomplished, articulate spokesperson for individuals with disabilities." These women—mothers, students, athletes and social activists—challenge themselves daily to live life beyond their limitations and in turn, demonstrate to the world that true beauty is encompassed in a desire to succeed, a dedication to serve others and the will to live life on their own terms. A discussion will follow the screening with Ostrander, the film's producer Molly Kasch and 2009 Ms. Wheelchair America Michelle Colvard.
"Wretches & Jabberers: And Stories from the Road"
Saturday, Oct. 16, 3 p.m.
The Palace Theater, 2384 James St., Syracuse
Tickets are $8 and can be purchased at the theater or visit http://www.syrfilmfest.com
Shuttle to theater from Goldstein Alumni and Faculty Center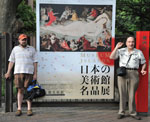 The 2010 Syracuse International Film Festival will screen this new documentary that follows Tracy Thresher and Larry Bissonnette, two men with autism, as they embark on a global quest to change attitudes about disability and intelligence. Determined to put a new face on autism, Thresher and Bissonnette travel to Sri Lanka, Japan and Finland and at each stop, dissect public attitudes about autism and issue a hopeful challenge to reconsider competency and the future. Growing up, Thresher and Bissonnette were presumed "retarded" and excluded from normal schooling. With limited speech, they both faced lives of social isolation in mental institutions or adult disability centers, but when they learned as adults to communicate by typing, their lives changed dramatically. Their world tour message is that the same possibility exists for others like themselves.
Following the screening, Singh, a 2010 Orange Central co-chair, will moderate a panel discussion. Panelists include Thresher, Bissonnette, film director Gerardine Wurzburg and Douglas Biklen, dean of the School of Education and the film's producer.
Poster Exhibition by Wynn Newhouse Award Recipients
Oct. 14 through the end of November
Downstairs foyer, Goldstein Auditorium (lower level), Schine Student Center, SU campus
Free admission; no tickets required
Free parking during Orange Central in Booth and University Ave. garages on Thursday and Friday, Skytop on Saturday, and any campus lot on Sunday
Paid parking in SU pay lots all other times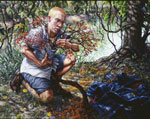 As a young man, Wynn Newhouse (1954-2010), the son of Samuel I. Newhouse Jr., lost functional use of one hand in an industrial accident and in midlife was diagnosed with multiple sclerosis. As he became increasingly constrained by MS, Newhouse witnessed negative perception about people with disabilities and set out to correct those false impres­sions by developing several programs to nurture outstanding talent.
In 2006, the Samuel I. Newhouse Foundation (established by S.I. Newhouse Sr., which has supported the Newhouse School for more than 40 years) established the Wynn Newhouse Awards. The program provides grants to fine artists of excellence who happen to have disabilities, in order to draw attention to the achievements of artists with disabilities and demonstrate their unique skills and insight. The program will continue through 2012 in Wynn Newhouse's memory.
The 18-poster exhibit consists of 16" x 20" posters, with one poster about Wynn Newhouse and the Newhouse foundation, and 17 others depicting artwork by past award recipients, along with their artist statements. The exhibition will be open to the public during regular Schine Center business hours and will be closed during any special events held in Goldstein Auditorium.


Hillel at SU's 60th Anniversary
The SU Hillel organization has served the Jewish community on campus since 1950. Two special events will celebrate this milestone anniversary.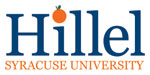 Spanning the Decades of Jewish Life at Syracuse University
Friday, Oct. 15, 2 p.m.
Winnick Hillel Center, 102 Walnut Pl., SU campus
Free admission; no tickets required
Free parking at University Avenue Garage, directly behind the Center. This panel discussion, moderated by the Hon. Joanne Fogel Alper '72 (vice chair of the SU Board of Trustees and past president of the SU Alumni Association) will feature alumni from different decades talking about the Jewish heritage that is part of the University's rich history.

An Evening with Max Weinberg
Thursday, Oct. 14, 9 p.m.
The Underground, Schine Student Center, SU campus
$5 admission; tickets required, purchase at Schine Box Office beginning Tuesday, Oct. 5
Free parking at Booth Garage (closes at 11:30 p.m.), Waverly and Marion lots
Weinberg, the man who the New York Times called "the rhythmic backbone of [Bruce Springsteen's] E Street Band," will perform and discuss his role as a drummer with the E-Street Band, his leadership of "The Max Weinberg 7" on "Late Night with Conan O'Brien," and "The Tonight Show Band" on "The Tonight Show with Conan O'Brien," and how his Jewish background has influenced his career. Weinberg, one of the most visible and recorded drummers of the late 20th century, has performed for millions of fans around the world.
Celebration of SU's Link with the Military
SU has a proud tradition of supporting veterans of the U.S. Armed Forces, from its historic role educating post-World War II veterans under the original Montgomery GI Bill, to serving post-9/11 servicemen and women through modern education enhancement programs and the University's newly established Veterans' Resource Center.
Veterans and the Military at SU: Unique Perspectives on Campus Life
Friday, Oct. 15, 2 p.m.
Lender Auditorium, Whitman School of Management. SU campus
Free admission; no tickets required
Parking available at University garage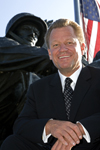 Bradley, a World War II scholar and celebrated author of the best-seller "Flags of Our Fathers," will present a keynote address. The book, later made into a critically acclaimed film directed by Clint Eastwood, tells the true story of the six men—including Bradley's father—who in 1945 raised the flag on Iwo Jima during World War II, an image made iconic in the most reproduced photograph in history.
A panel discussion on SU's longstanding commitment to veteran education and inclusion, with veterans and current military, will follow. Robert McClure, faculty member in the Maxwell School of Citizenship and Public Affairs, will moderate.
Participants include:
Bradley Strait '58, G'60, Ph.D.'65, a Korean War veteran (U.S. Navy);
Mel Rubenstein '57, an SU ROTC alumnus (U.S. Army/Army Reserves);
Roosevelt "Rick" Wright Jr. '93, a Newhouse professor and Vietnam War veteran (U.S. Army/Navy); and
Staff Sergeant Maurice L. Hill, the Non-Commissioned Officer in Charge of Information Management for ROTC Detachment 535 at SU, and Operation Iraqi Freedom and Enduring Freedom veteran(U.S. Air Force/Army).
Mike Haynie, assistant professor of entrepreneurship and emerging enterprises in the Martin J. Whitman School of Management (a former U.S. Air Force officer) will close the program. Founder and director of the Entrepreneurship Bootcamp for Veterans with Disabilities (EBV), Haynie will speak about the program, which was founded in 2007 at the Whitman School and offers world-class training in entrepreneurship and small business management to veterans disabled as a result of their military service. EBV is now being offered on six college campuses across the United States, and in 2009 was recognized as a "National Best Practice" by the Department of the Army for serving soldiers and their families in the transition from military to civilian life.
Focus on Video Artist Bill Viola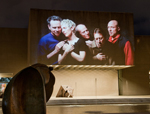 A 2010 Arents Award recipient, Bill Viola '73 is internationally recognized for being instrumental in establishing video as a vital contemporary art form. His works focus on universal human experiences—birth, death, the unfolding of human consciousness—and have roots in Eastern and Western art, as well as spiritual traditions. An example of how SU is bringing arts into the local community, Viola's video installations envelop viewers in image and sound.
Bill Viola in Conversation with David Ross
Thursday, Oct. 14, 7:30 p.m.
Everson Museum of Art, 401 Harrison St., Syracuse
Free admission; no tickets required
Free parking at Booth and University Avenue garages
Shuttles provided to Everson
Viola and independent curator/educator and SU alumnus Ross '71 will discuss Viola's work during a public presentation. A reception in the Everson Plaza, including a screening of an outdoor installation of Viola's video installation "The Quintet of the Astonished," will follow.
"The Quintet of the Astonished"
Wednesday, Oct. 13, through Sunday, Oct. 17, dusk-11 p.m.
exterior, Everson Museum of Art
Free admission; no tickets required
An outdoor video installation of Viola's exploration of the cathartic power within grief, personal suffering and bereavement that captures the unfolding facial expressions of five actors in such extreme slow motion, that every minute detail can be detected.
"Two Women"
Wednesday, Oct. 13 through Sunday, Oct. 17, dusk to 11 p.m.
exterior, Onondaga Historical Association, 321 Montgomery St., Syracuse
Free admission; no tickets required
The video is an outdoor installation reflecting Viola's interest in the Buddhist idea of death as a passage. Viola created an apparatus in his studio that enabled two actors to encounter and move through a wall of water, allowing viewers to savor the beauty of the moving water, light and figures.
Orange Central 2010
For more information on Showcase events, visit http://www.syr.edu/alumni/events/orangecentral/orange-central-showcase.html. For an up-to-the-minute schedule of Orange Central events and activities, visit http://orangecentral.syr.edu. For questions, contact the Office of Alumni Relations at 1-800-SUALUMS (782-5867) or e-mail sualumni@syr.edu.
For the latest social media updates on Orange Central, including live posts during events, follow @SyracuseU (http://twitter.com/SyracuseU) on Twitter and search the hash tag #SUOC. Orange Central information is also available on the SU Facebook page; become a fan by visiting http://www.facebook.com/syracuseuniversity.