Campus & Community
Annual Orange Central celebration offers slate of special events
Honorary alumni co-chairs welcome everyone who 'bleeds Orange'
From one end of campus to the other—and even beyond—Orange Central 2010 brings Syracuse University alumni, students, faculty, staff and friends dozens of ways to reminisce and reconnect, to explore SU's newest places and programs and to get to know today's campus community. Orange Central includes class reunions, special group reunions and Homecoming student events all rolled into one exciting week.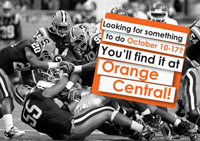 This year's Orange Central honorary alumni co-chairs—Pro Football Hall of Famer Floyd Little '67, SU fine arts professor Gary Radke '73, NPR newscaster Lakshmi Singh '94 and entertainer Jerry Stiller '50—share a lifelong love for Syracuse. They will preside over the celebration and some will even assist with promotion of Orange Central festivities, including serving as hosts at events and meeting and greeting alumni when they arrive on campus.
Orange Central highlights include:
• The Orange Central Bash featuring presentation of the Orange Circle Awards. The biggest party at Orange Central, hosted by Little and his wife, DeBorah. Altruistic efforts by SU alumni, friends, faculty, staff and students will be recognized as the Fisher House Foundation, Marshall M. Gelfand '50, the Entrepreneurship Bootcamp for Veterans with Disabilities, Students in Free Enterprise and the Miriam Loewy Friend Hillel Program's Gift of Life Campaign are honored with Orange Circle Awards.
• Presentation of the 2010 George Arents Awards during the Reunion Gala Luncheon. The University's highest alumni honor, Arents Awards are presented annually to alumni who have made outstanding contributions to their chosen fields. The 2010 recipients are entertainment executive Suzanne C. de Passe '68; disability rights activist Brian P. McLane '69; pioneering video artist Bill Viola '73, H'95; and celebrated author, artist and philanthropist Karen B. Winnick '68. SU alumna and MSNBC anchor Contessa Brewer '96 will host.
• Orange Central Showcase. A series of special core presentations and thematic programming featuring high-profile personalities, including Brewer, Singh, E Street Band/former Conan O'Brien drummer Max Weinberg, former newscaster Mark McEwen and "Flags of Our Fathers" author James Bradley. Showcase events provide a unique, first-hand look at the great things happening as a result of SU's longstanding commitment to disability rights and inclusiveness, support for the nation's veterans and active military, and the arts.
In addition, other special events will take place on and around campus, including:
Cartoonists' Panel – Thursday, Oct. 14, at 7 p.m.; Shemin Auditorium, Shaffer Art Building
Presented by the School of Art and Design in the College of Visual and Performing Arts, the panel will be moderated by Joe Glisson '84, cartoonist for the Syracuse New Times, and will feature Brad Anderson '51, creator of "Marmaduke;" Greg Walker '72, co-artist and –writer of "Beetle Bailey" and "Hi and Lois;" Robb Armstrong '85, creator of "Jump Start;" and cartoonist Bill Janocha '81.
Cold Case Justice Initiative (CCJI) Presentation – Friday, Oct. 15, at 2:30 p.m.; Heritage Alumni Lounge, Grant Auditorium, College of Law
Hear about the vital work being done by SU law faculty and students to reinvestigate unsolved, racially motivated murders committed during the Civil Rights Era. College of Law professor and CCJI co-director Paula Johnson and student volunteers will present. Learn more about CCJI at http://syr.edu/coldcaselaw.
Homecoming Barbecue – Friday, Oct. 15, at 5:30 p.m.; Panasci Lounge, Schine Student Center
A special welcome-back-to-campus party, sponsored by the Traditions Commission, brings alumni, students, faculty, staff and friends together for food, music and fun. Advance reservations required; contact Alumni Relations at 1-(800) -SUALUMS (782-5867) or sualumni@syr.edu.
NBA Preseason Game – Friday, Oct. 15, at 7:30 p.m.; Carrier Dome
"Marathon Man" Jonny Flynn and fellow Orange standout Wes Johnson return to the Dome in this preseason matchup between the Minnesota Timberwolves and Detroit Pistons. Purchase tickets by calling the Dome Box Office at (888) 366-3849 or visiting http://www.suathletics.com.
Syracuse International Film Festival (SYRFILMFEST) 2010 – Wednesday, Oct. 13, through Sunday, Oct. 17; locations throughout Syracuse
SYRFILMFEST presents contemporary, international film for year-round special events and during annual festival days. The festival includes a substantial lineup of screenings and special events, providing a showcase for established and emerging filmmakers from around the world, and also maintains and enriches film culture in Central New York. Visit http://www.syrfilm.com for complete festival information and updates, or call the festival office at 443-8826.
In addition, milestones will be celebrated at a series of special events for recognized reunion classes and groups, including the annual presentation of the Melvin A. Eggers Senior Alumni Award during a special dinner for alumni who have already celebrated their 50th reunion. The event takes place on Thursday, Oct. 14, at 5 p.m. at Drumlins. Brad Strait '58, G'60, '65 will receive the prestigious honor.
Others celebrating special reunions include the Class of 1950 60th Reunion; Class of 1960 50th Reunion; Class of 1970 40th Reunion; Class of 1985 25th Reunion; Class of 1955 cocktail parties; Classes of 1965, 1970, 1975, 1980, and 1985 post-game party; Class of 2005 pre-game party; ASIA reception; Boar's Head Reunion; College of Law Reunion 2010; Eta Pi Upsilon Annual Brunch; Seventh Annual Office of Residence Life Reunion Breakfast; Spirit Reunion; Student Centers and Programming Services Student Employee Alumni Reception; the L.C. Smith College of Engineering and Computer Science's PRIDE 15th Anniversary Celebration; Syracuse University Band Alumni Association Reunion; Traditions Commission Reunion; Nursing Alumni Event; SUNY-ESF Homecoming; and the University Union Reception.
Orange Central also includes perennial, student-centered favorites like the Homecoming Showcase, student campus decorating contest and the football fun zone on the Quad (beginning at 9 a.m.) prior to the SU vs. Pittsburgh football game at noon in the Carrier Dome on Saturday, Oct. 16.
Orange Central 2010
For more information on Orange Central and an up-to-the-minute schedule of events and activities, visit http://orangecentral.syr.edu. For questions, contact the Office of Alumni Relations at 1-800-SUALUMS (782-5867) or e-mail sualumni@syr.edu.
For the latest social media updates on Orange Central, including live posts during events, follow @SyracuseU (http://twitter.com/SyracuseU) on Twitter and search the hash tag #SUOC. Orange Central information is also available on the SU Facebook page; become a fan by visiting http://www.facebook.com/syracuseuniversity.