Arts & Culture
Syracuse Stage, SU Drama present 'Another American: Asking and Telling'
Syracuse Stage and Syracuse University's Department of Drama will present Obie, Helen Hayes and GLAAD award winner Marc Wolf in a special, one-night-only performance. "Another American: Asking and Telling" takes the audience on a national tour of sexual politics, the American military, sanctioned discrimination and its human fallout. In a piece distilled from more than 150 interviews with straight, gay and lesbian military personnel (from World War II veterans to anonymous service members serving today), in addition to civil rights lawyers, federal judges, professors and politicians, Wolf portrays a community of characters struggling with the government's controversial policy on gays and lesbians in the armed forces.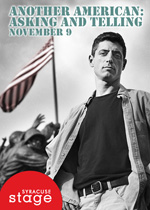 The abridged, unplugged version of Wolf's one-person show will take place at 7:30 p.m. on Tuesday, Nov. 9, in the Archbold Theatre at Syracuse Stage. The 50-minute performance will be followed by a moderated post-show discussion. Tickets are $10 and may be reserved at (315) 443-3275 or http://www.SyracuseStage.org.
"Another American: Asking and Telling" was first performed at The New Group in 2000. This past summer "Another American" enjoyed a second run in New York at the DR2 Theatre, where it was extended due to popular demand. It has been performed throughout the country to critical acclaim at prestigious theaters, including Mark Taper Forum, McCarter Theatre Center and The Studio Theatre.
In creating the work, Wolf logged almost 400 hours of interviews to base the work on real people, some in favor of letting gays serve in the military and others against it.
"I decided to dramatize opposing beliefs and alternative stories in order to challenge our collective prejudices—prejudices toward the military as well as toward the gay community," says Wolf. "They are all people that affected me very powerfully and really challenged my own prejudices. The gay people that I interviewed really believe in the American ideal of what our country could be. But that reality can't happen for them, and they feel frustrated by that distance between the reality and the ideal."
"We are thrilled to bring Marc Wolf and this important piece to Syracuse," says Timothy Bond, producing artistic director of Syracuse Stage. "'Another American' promises to be a stirring evening of theater, and after the performance we look forward to lively dialogue with audience members during our post-performance discussion."
"SU Drama is proud to partner with Syracuse Stage in the presentation of a theatrical investigation of this timely matter," says Ralph Zito, chair of SU's Department of Drama. "We hope that this experience will both enrich and be enriched by the intellectual and cultural life of the University and the Syracuse community."