Campus & Community
Lowe's Heroes donates supplies and manpower to revitalize Stone Soup Garden on Syracuse's Near Westside
On Friday, Oct. 8, from 9 a.m.-4 p.m., approximately 20 volunteers from the Lowe's Heroes volunteers program will converge on the Stone Soup Garden, located at 410-412 Gifford St., Syracuse (next to St. Lucy's Church), to help spruce up the community garden.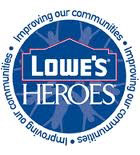 The Lowe's Heroes volunteers program has donated $3,600 worth of materials and staff for the day. Volunteers will plant trees, shrubs and flowers; install a new compost system; and build a fence for a children's area. Each year the program helps improve communities where Lowe's employees work and live. Together, store teams identify an improvement project that will make a difference in their community. While projects vary by location, volunteers share a common goal to make their communities better places to live.
Local Lowe's stores contacted the Near Westside Initiative about the volunteer opportunity. Maarten Jacobs, director of the NWSI, suggested they put their efforts into the community garden, which the initiative has been supporting. Three area Lowe's stores (Clay, Camillus and Syracuse) have teamed up for the cause. The project is being led by David Johnson of Lowe's, and Emily Frank from Stone Soup Garden.
For more information, contact Jacobs at (315) 480-7678 or mjacob01@syr.edu.