Campus & Community
Pulse Performing Arts Series presents modern dance troupe Lar Lubovitch Dance Company Nov. 11
Syracuse University's Pulse Performing Arts Series will present a performance by the Lar Lubovitch Dance Company as part of the 2010-11 season of programming. The company will perform on Thursday, Nov. 11, at 8 p.m. in Goldstein Auditorium in the Hildegarde and J. Myer Schine Student Center, on the SU campus. In addition to the public performance, the dance company will hold a private master class for a select group of SU students.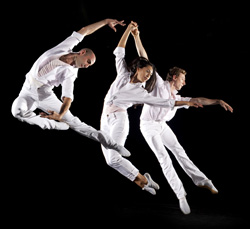 Tickets for the public performance are $5 for students with an SU or SUNY-ESF I.D.; $16 for SU faculty, staff, alumni and Pulse Partners; and $20 for the general public. Paid parking will be available in the Booth and University Avenue garages for $4 per car.
Pulse, presented by SU's Division of Student Affairs, provides SU undergraduates and, in turn, the Central New York community with out-of-classroom opportunities to attend and participate in programs, performances, exhibitions and events in the performing and visual arts.
Founded by versatile and acclaimed choreographer Lar Lubovitch in 1968, the Lar Lubovitch Dance Company is one of the world's foremost modern dance troupes. Based in New York City, the company has performed extensively across the nation, in more than 30 foreign countries and has been seen by millions on television.
The company exists to create and perform new works by Lubovitch and to teach people of all ages, ethnicities and socioeconomic backgrounds in order to increase awareness and appreciation of dance. The troupe is also committed to collaboration and service to the dance community.
Lubovitch's dances are renowned for their musicality, rhapsodic style and sophisticated formal structures. His radiant, highly technical choreography and deeply humanistic voice have been acclaimed throughout the world. In recognition of its work, the Lar Lubovitch Dance Company has received numerous awards and grants from the National Endowment for the Arts, the New York State Council on the Arts, and from foundations, including the Lila Wallace-Reader's Digest Fund.