Arts & Culture
Multimedia artist Jennifer Schmidt to hold residency, present Nov. 2 lecture
Artist Jennifer Schmidt, who often works with print media and graphic design to create sculptural installations, video and screenprinted ephemera, will present a lecture on Tuesday, Nov. 2, at 6:30 p.m. in Shemin Auditorium in the Dorothea Ilgen Shaffer Art Building. The lecture is sponsored by the printmaking program in the College of Visual and Performing Arts' (VPA) Department of Art.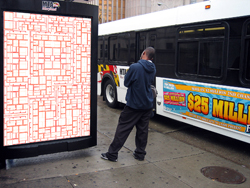 Schmidt will also be in residence Nov. 1-5 at Lake Effect Editions, the press of the printmaking program, which is part of the program's second-floor studios in the Comstock Art Facility (ComArt). She will work with students and faculty to create a large-scale print installation for the Sarah A. Coyne Gallery, also on the second floor of ComArt. The University community is invited to visit the printmaking studios during the week to meet the artist and view the production of her latest work.
Schmidt's work is inspired by the everyday objects, patterns, games and linguistic commonplaces of popular customs. She rearranges and re-presents ordinary materials and signs in order to explore notions of individual identity, objectivity/subjectivity, history/fable and the inherent value implied by a gesture or act of intervention. She maintains a studio practice in Brooklyn, N.Y., and teaches printmaking at the School of the Museum of Fine Arts in Boston.
For more information about the lecture and residency, contact Holly Greenberg, associate professor of printmaking, at (315) 443-4519 or hgreenbe@syr.edu.