STEM
iSchool professor publishes book on need for more people educated as information professionals
Syracuse University School of Information Studies (iSchool) Professor Jeffrey Stanton co-authored a book with Syracuse University alumnae Indira Guzman and Kathryn Stam, "Information Nation: Education and Careers in the Emerging Information Professions" (Information Today, Inc., 2010). The book focuses on the disparity between the growth of careers within the information industry and the apparent lack of interest in studying and working in the field within the United States.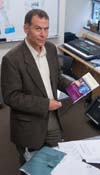 "[The book is] an invaluable resource for anyone interested in information technology, computer science or library and information science careers," says Diana Burley of George Washington University. "A must-read for all those who care about American competitiveness in the global information society."
Stanton, Guzman and Stam conducted three years of research into why schools of information science and technology have failed to attract, teach and produce a new generation of information professionals to meet the demand of virtually every industry in the United States.
"As information and technology disrupt industry after industry, young adults and all those concerned with their children's or students' success should read 'Information Nation,'" says Richard Katz, founding director of EDUCAUSE Center for Applied Research and owner of Richard N. Katz & Associates, a consulting firm that focuses on strategy, technology and assessment issues with governments, corporations, and colleges and universities worldwide.
Within the book, the three educators examine the barriers to inclusion and retention in information-related fields, analyze the forces that prevent students from getting critical interdisciplinary skills, and tell the stories of a diverse group of students who are thriving in new majors and new careers.
Guzman received a Ph.D. from SU in 2006 and is now an associate professor of management information systems and business administration at TUI University in Cypress, Calif. She is also a research associate of the Information Technology Workforce Project at the iSchool and holds numerous degrees, including a master's degree in information management from the iSchool, master's and bachelor's degrees in computer science from the Polytechnic Institute of Donetsk, Ukraine, and advanced graduate studies in banking and finance from the Bolivian Catholic University.
Stam is an assistant professor of anthropology and coordinates an online graduate program in information design and technology at the SUNY Institute of Technology in Utica. She earned a Ph.D. in social science from SU's Maxwell School of Citizenship and Public Affairs, and completed a three-year post doctorate research position at the iSchool. Her main research focus is on information technology, community health, cultural conservation and ethnographic methods.
Stanton is the associate dean for research and doctoral programs at the iSchool. He earned a Ph.D. from the University of Connecticut in 1997 and has two decades of experience educating students in science and technology. The National Science Foundation supported the research reported in "Information Nation."