Media, Law & Policy
Syracuse University students drop their jeans for a good cause
This fall, at five universities including Syracuse University, Cotton Inc. launched the "Cotton. From Blue to Green.®" denim drive, a call to action to donate denim and give it a new life by converting it into natural cotton fiber insulation. Hill Communications, a student-run public relations firm based in SU's S.I. Newhouse School of Public Communications, is spearheading the drive, which will run through the month of October. Their goal is to collect 500 pairs of jeans—enough denim to insulate an entire house.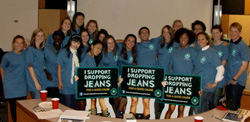 Laura Foti, a sophomore public relations major in the Newhouse School, is overseeing the effort. "SU students know the importance of giving back," she says. "And almost everyone has a pair of old jeans, so the denim drive is an easy and effective way to help others and change lives." Students, faculty and community members can drop denim off at a variety of collection boxes around campus, including the Schine Student Center, on Friday, Oct. 8, from 1-3 p.m.; and in residence halls Haven, Day, Brewster/Boland/Brockway, Sadler, Shaw, Ernie Davis and Lawrinson from Oct. 9-23.
"The 'Cotton. From Blue to Green.®' denim drive is a great way to speak to college students about cotton, specifically denim, and generate awareness about its sustainability and ability to be recycled and reused," says Paula G. Rosario, vice president of consumer marketing-strategic alliances for Cotton Inc. Other participating universities include the University of Kentucky, the University of Nebraska, the University of Texas and the University of Wisconsin.
Since 2006, the "Cotton. From Blue to Green.®" denim drive has collected nearly 100,000 pieces of denim from on-campus student organizations at 45 colleges and universities throughout the nation. The donated denim is converted into UltraTouch™ Natural Cotton Fiber Insulation and is used in building houses for families affected by natural disasters. The drive also collects denim through partnerships with national retailers and organizations, including American Eagle Outfitters, National Jean Co., Ernest Sewn, Gap, G by Guess and Guess by Marciano, as well as Warner Bros. Pictures.
Bonded Logic Inc., a natural cotton fiber insulation manufacturer, converts the denim into UltraTouch™ insulation. To date, more than half a million square feet of UltraTouch™ has been produced and used in building new homes for more than 540 families.
For more information about the denim drive, contact Foti at (610) 241-6847 or lefoti@syr.edu.