Arts & Culture
Original designs by fashion icon Christian Dior on view at The Warehouse
Seven original designs by the late fashion icon Christian Dior are on view in the exhibition "Christian Dior 1947-1957" through Nov. 3 at the Design Gallery at The Warehouse, 350 W. Fayette St., Syracuse. The exhibition is free and open to the public. An opening reception will be held Saturday, Oct. 16, from 3-5 p.m. Regular gallery hours are daily, 10 a.m.-5 p.m.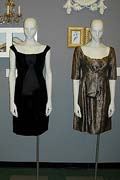 The exhibition documents and honors the memory of Dior, who began his design house in 1947 in post-World War II Paris and ruled the fashion world until his death in 1957. The outfits featured (the ones at left are from an earlier show) are taken from the Sue Ann Genet Costume Collection and the Martha M. Caldwell Costume Collection, which are housed in the fashion design program in Syracuse University's College of Visual and Performing Arts (VPA).
"Christian Dior changed the world of fashion with his first collection," says Jeffrey Mayer, associate professor and coordinator of the fashion design program in VPA's Department of Design. "He transformed fashion from the wartime look of rationed fabric to the early 1900s look he admired on his mother—no shoulder pads, an hourglass silhouette, skirts only seven inches off the ground and dresses that took 15 to 20 yards of fabric to create."
Dior was born on the coast of Normandy, France, in 1905. Before opening his own design house, he worked as a design assistant for Robert Piguet and Lucien Lelong. Dior's house remains successful, headed after his death by such designers as Yves Saint Laurent, Marc Bohan and, currently, John Galliano.
For more information, contact Mayer at (315) 443-4644.