Arts & Culture
Artist Cui Fei to lecture on new site-specific works Oct. 12
Artist Cui Fei will lecture on her new site-specific works on Tuesday, Oct. 12, at 6:30 p.m. in Shemin Auditorium in the Dorothea Ilgen Shaffer Art Building. The talk is presented in conjunction with her eponymous exhibition at The Warehouse Gallery, which is on view through Nov. 6.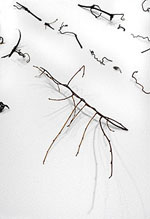 The lecture is sponsored by The Warehouse Gallery, the Department of Art in the College of Visual and Performing Arts' School of Art and Design, and the Chinese Studies program in The College of Arts and Sciences.
Affected by the social transformations in China and the cultural changes she experienced upon her move to the United States in 1996, Cui presents work that emanates a quiet permanence to its viewers. Taking such natural elements as leaves and thorns, she carefully organizes them in rows that resemble calligraphy, tally marks or Braille. The use of recognizable plant parts in delicately organized and ordered arrangements make the work seem somehow immortal and unmoving, a language directly from nature that will not change.
At The Warehouse Gallery, Cui created works on paper with thorns and an installation using salt, referring to Syracuse's history as the major source of salt for the United States until the Civil War. Also on display is a healing piece that uses sand, an allusion to the rich tradition of sand paintings by Native Americans, Tibetan monks, Indians, Australian Aborigines and Latin Americans.
Cui received a bachelor of fine arts degree at the Zhejiang Academy of Fine Arts (now China National Academy of Fine Arts) and a master of fine arts degree from Indiana University of Pennsylvania. She has received numerous fellowships and awards, including the Pollock-Krasner Foundation Grant, the New York Foundation for the Arts Fellowship and a BRIO Award from the Bronx Council on the Arts. Though she has exhibited widely in the United States, this is her first solo museum show.
For more information about the lecture, contact Stephen Zaima, professor of painting, at (315) 443-4613 or szaima@syr.edu.