Arts & Culture
Photographic project about breast cancer survivors opens Oct. 27
"Look Now: Facing Breast Cancer," a powerful new photographic project about breast cancer survivors, will be launched on Wednesday, Oct. 27, at 5:30 p.m. in the Joyce Hergenhan Auditorium in Newhouse 3 at Syracuse University.
The event is free and open to the public, and parking will be available for $4 in the University Avenue Garage.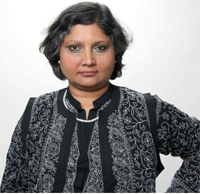 The launch event will unveil a series of portraits (like the one of Goenka at left) by artist Angelika Rinnhofer featuring three local women who have faced breast cancer. A short documentary about the project will also be screened, followed by a panel discussion on living life after diagnosis and treatment of breast cancer.
Patricia Numann, professor of surgery and Distinguished Service Professor at SUNY Upstate Medical University, and a breast and thyroid surgeon, will be the special guest at the panel discussion. She will be joined by Elizabeth Baldwin, executive director of the Carol M. Baldwin Breast Cancer Research Fund; Beth Phillips, registered physician assistant at CNY Cosmetic & Reconstructive Surgery in Fayetteville; and Linda Friedman, speech-language pathologist for Fayetteville-Manlius Schools, and a participant in the photo exhibition.The moderator will be Tula Goenka, associate professor of television-radio-film in the S.I. Newhouse School of Public Communications.
"Look Now: Facing Breast Cancer" aims to bring awareness of the emotional and physical aspects of breast cancer. The opening exhibition launches a year-long photographic project that will portray Central New Yorkers who have been treated for breast cancer. All the photographs will be taken by Rinnhofer and will show the subjects in a combination of dressed and nude portraits. The project culminates next October with an exhibition of all the portraits, together with the premiere of a longer documentary film about the project and its photographic subjects.
Resisting our culture's tendency to abstract, obscure or allegorize illness, "Look Now" bears witness to the breast cancer that exists all around us here in our own region. "Every case of breast cancer," says Rinnhofer, "is a unique story that doesn't just begin with the diagnosis and end with surgery or chemotherapy." The portraits depict these survivors as vibrant and empowered. They affirm an overall sense of "still whole," while also acknowledging the diverse physical effects of cancer treatment, ranging from double mastectomies to no visible signs at all. Moreover, the project's accompanying video documentary allows women (and men) to verbally testify to the emotional challenges they and their families must face after diagnosis.
"Breast cancer is a disease that sucks you in, chews you up and spits you out. Some women lose their breasts. Most lose their hair. And many lose their lives. But all those who survive lose their sense of themselves and never really feel whole again. I know this because I am a breast cancer survivor myself," says Goenka, who conceived of the project and was also the first person photographed for it.
Women's breasts have always been objectified by society and the media, and therefore the loss of one or both breasts to a potentially fatal illness is even more traumatizing. Since the beginning of photography, portraits have been an important medium to affirm and celebrate the person in front of the camera. This project thus works to try to heal and restore a sense of wholeness through the power of the individual portrait.
Ultimately, the purpose of the show is multi-fold: to spread awareness, to serve as an artistic testament to living well after the disease and, above all, to empower the women who participate.
The project organizers are looking for survivors of different ages, ethnicity and levels of surgery. The show in October 2011 will consist of 20-25 double portraits. One portrait will be of the person's public persona, clothed. Next to it will be the upper body close-up of the nude torso. Each person who participates will get a print of her diptych; those interested in participating in the project should send an email to looknowproject@gmail.com.
Look Now" is a joint venture, supported by The SU Humanities Center, the S.I. Newhouse School of Public Communications, and Light Work/Community Darkrooms.
The exhibit is part of this year's Syracuse Symposium, which is organized around the theme of "CONFLICT: PEACE AND WAR" and is presented by the SU Humanities Center for The College of Arts and Sciences and the entire Syracuse community.
German-born artist Rinnhofer lives and works in Beacon, N.Y. Her artistic practice focuses mainly on photography, but also incorporates other media, such as video, performance and installation. During her residency at Light Work in 2005, she produced the portrait series "Menschenkunde" and "Felsenfest," which simulate oil paintings from the Renaissance.
For more information, contact Goenka at 443-3376, tgoenka@syr.edu.