Campus & Community
University Lectures presents panel discussion on BP oil spill
On April 20 of this year, BP's Deepwater Horizon offshore oil drilling rig exploded in the Gulf of Mexico off the coast of Louisiana. The explosion killed 11 men and caused hundreds of millions of gallons of oil to gush into the Gulf of Mexico unabated for more than three months, causing an environmental disaster.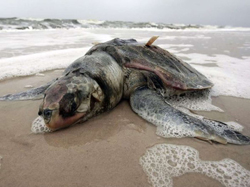 The long-term impacts of this disaster are the focus of a special University Lectures presentation at Syracuse University on Tuesday, Oct. 26. "Blowout: What the Gulf of Mexico Oil Spill Means for You and the Future of American Energy," a conversational panel discussion, will begin at 7:30 p.m. in Hendricks Chapel and is free and open to the public. Reduced-rate parking will be available in the Irving Garage. CART and sign language interpreters will be available for all University Lectures this season.
The panel presentation is sponsored in cooperation with the Office of the Chancellor and the L.C. Smith College of Engineering and Computer Science.
A distinguished group of panelists from a range of disciplines—environmental, social and geographic—will explore the impacts of the disaster that will linger for years to come, even though the oil has stopped flowing. Will the spill ultimately have an impact on the broader issue of climate change? What will the impacts be on Gulf Coast residents for years to come? These questions and more will be explored.
National Public Radio Science Correspondent Joe Palca will moderate the panel discussion. Palca has covered the story of the oil spill from the Gulf of Mexico.
Panelists will include:
Lee Clarke, professor of sociology at Rutgers University. Clarke is a sociologist who studies worst case scenerios, and is the author of "Worst Cases: Terror and Catastrophe in the Popular Imagination" (University of Chicago Press, 2005);
Kishi Animashaun Ducre, assistant professor of African American Studies in SU's College of Arts and Sciences. Ducre focuses on environmental sociology and environmental justice, and has worked with the people of Louisiana for more than a decade;
Matt Huber, assistant professor of geography in SU's Maxwell School of Citizenship and Public Affairs and College of Arts and Sciences. Huber, an expert in political economy, energy and capitalism and resource governance, will speak on livelihood, justice and regulation;
Christopher Scholz, professor of earth sciences in SU's College of Arts and Sciences. An expert in ocean science, Scholz will speak about deepwater drilling and the oil and gas industry.
The University Lectures is a cross-disciplinary lecture series that brings to the University individuals of exceptional accomplishment. The series is supported by the generosity of the University's Trustees, alumni and friends. All lectures are free and open to the public.
The Office of University Lectures welcomes suggestions for future speakers. To recommend a speaker, or to obtain additional information about the University Lectures, contact Esther Gray in the Office of Academic Affairs at 443-2941 or eegray@syr.edu. More information can be found at the University Lectures website, http://lectures.syr.edu or on Facebook at http://www.facebook.com/universitylectures.
Scheduled guests for the rest of the 2010 fall semester are Nicholas D. Kristof,  Pulitzer Prize-winning journalist, New York Times columnist and co-author of "Half the Sky" (Knopf, 2009) on Nov. 3; and Bernard Amadei, founding president of Engineers Without Borders, professor of civil engineering at the University of Colorado at Boulder and faculty director of the Mortenson Center in Engineering for Developing Communities, on Nov. 16.
During the spring semester, guests will include Eric Schlosser, investigative journalist and author of "Fast Food Nation" (HarperCollins, 2005) on March 1, 2011; James Balog, photographer and director of the Extreme Ice Survey, on March 8, 2011; Karen Tse, human rights attorney, founder and director of International Bridges for Justice, on March 22, 2011; and Maude Barlow, co-founder of the Blue Planet Project and chair of the Food and Water Watch, on April 5, 2011.