Campus & Community
Scholar, activist Angela Davis to give free lecture Oct. 12
Scholar and activist Angela Davis will deliver a public lecture at Syracuse University on Oct. 12 as part of her month-long Visiting Distinguished Professorship in the Departments of Women's & Gender Studies (WGS) and African American Studies (AAS). The lecture, "21st Century Abolition and the Challenge of Feminism," will be given Tuesday, Oct. 12, at 5:15 p.m. in Watson Theater in the Menschel Media Center. Davis is in the third year of a three-year professorship in WGS, done in partnership with AAS. Both WGS and AAS are housed in The College of Arts and Sciences.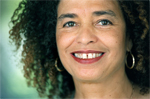 A second event involving Davis is a screening of a new documentary film, "Mountains That Take Wing: Angela Davis & Yuri Kochiyama, A Conversation on Life, Struggles, and Liberation." The event takes place Wednesday, Oct. 13, at 5:30 p.m. in Watson Theater. Both events are free and open to the public.
The documentary film by C.A. Griffith and HLT Quan showcases the long cross-ethnic and multi-issue collaboration of Davis and 89-year-old Yuri Kochiyama, a revered grassroots community activist and 2005 Nobel Peace Prize nominee. In the film, Davis and Kochiyama discuss the role of women in the 20th century social movements, community empowerment, and African American and Asian American collaboration. Both filmmakers will lead a conversation about the challenges of chronicling the activism of Davis and Kochiyama, the dangers of myth-making and sensationalism, and the potential of film as a tool to advance the struggle for social justice.
The event is hosted by SU's Democratizing Knowledge Project, which received one of the Chancellor's Leadership Project grants in 2009. The core vision of the project is institutional change for building inclusive futures. The DK Project aims to construct ways of "democratizing knowledge," revitalizing and transforming the reach of these knowledges to address difference, identity, equality, justice, citizenship and democracy and making these knowledges more visible, more sustainable and more institutionally public on the campus and beyond.
"It has been an amazing and enriching experience for us in Women's and Gender Studies to have Angela teach a seminar in the fall, work closely with undergraduate and graduate students, as well as with faculty and deliver public lectures on her recent work focusing on the challenge of anti-imperialist feminism and the range of social problems associated with incarceration and the generalized criminalization of communities that are most affected by poverty and racial discrimination," says Chandra Talpade Mohanty, professor and chair of the department of Women's and Gender Studies.
Davis shot to fame during the Civil Rights Movement through her associations with the Black Panther Party for Self Defense and the Student Nonviolent Coordinating Committee. She achieved further notoriety in 1970, when a gun allegedly belonging to her was used to kill a California superior court judge. An intense manhunt ensued, after which she was captured, arrested, tried and acquitted in one of the most famous court cases in recent U.S. history.
"Professor Davis' scholarly, pedagogical and activist work embody in the most nuanced ways the spirit of Scholarship in Action," Talpade Mohanty adds. "She teaches through example, by living a deeply engaged, generous and ethical life."
As professor emerita of history of consciousness and feminist studies at the University of California at Santa Cruz, Davis specializes in feminism, African American studies, critical theory, popular music culture and social consciousness, and philosophy of punishment. She also is a best-selling author and sought-after speaker.
The Women's and Gender Studies Department's goal is to encourage knowledge about the complex ways that gender ideas and practices shape the world around them. The African American Studies Department encourages students to engage, analyze and create knowledge involving African Americans, as well as linkages with areas of the Caribbean and continental Africa.