Campus & Community
Campbell to discuss 'Barack Obama and 21st Century Politics' Nov. 1 as part of new campus series
The African American Studies Department (AAS) in The College of Arts and Sciences, and the Student African American Society (SAS) are launching a new series, "SAS Meets AAS." The first event in the series will take place on Monday, Nov. 1, with a discussion of Horace Campbell's new book "Barack Obama and 21st Century Politics: A Revolutionary Moment in the USA" (London: Pluto Books, 2010).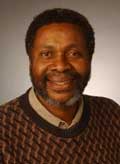 In a timely event just a day before the elections, Campbell will discuss "Barack Obama and 21st Century Politics" in room 304 of the Schine Student Center at 7 p.m. The event is free and open to the public; light refreshments will be served.
In "Barack Obama and 21st Century Politics" Campbell, professor of African American Studies and political science at Syracuse University, draws from the revolutionary traditions of society—especially those of Thomas Paine in one era, and Harriet Tubman and Frederick Douglass in their relationship with Abraham Lincoln—to argue that Obama is not a revolutionary, but similar to the period of Lincoln, was caught in a revolutionary moment.
"Barack Obama and 21st Century Politics" examines the organizational capacity through "networks of networks," and the accompanying message of optimism, both of which were required for a quantum leap in 21st century politics in the 2008 electoral campaign. Situated in the context of the agency of new social forces galvanized in the 2008 electoral season, the book develops a theory of politics that starts with the humanist principles of ubuntu—healing and reparations for the 21st century. It argues that key ideas like quantum politics and a 'network of networks' move away from old forms of vanguardism during a period in history that can be characterized as a revolutionary moment.
This first event of the new series "SAS Meets AAS" is also the kick-off event for "Black Solidarity Week," sponsored annually by SAS .
For more information about the event or Black Solidarity Week, contact Donald St. Germain at dhsaintg@syr.edu.