Campus & Community
Westcott Neighborhood Bulb Giveaway/Garden Extravaganza will distribute more than 17,000 daffodil bulbs
The Westcott Neighborhood eighth annual Bulb Giveaway/Garden Extravaganza, a project of the Westcott Community Center in conjunction with the Northside Collaboratory, Near Westside Initiative, Southside Interfaith CDC/Onondaga Earth Corps, Women Transcending Boundaries Acts of Kindness Project and numerous volunteer organizations, is working to distribute more than 17,000 bulbs for planting throughout Syracuse this fall.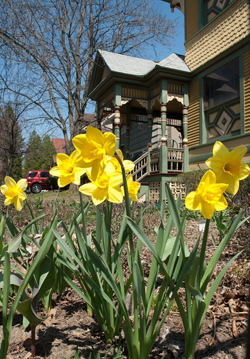 Westcott Neighborhood Bulb Giveaway Day and Farmers' Market will be held Saturday, Oct. 2, from 10 a.m.-2 p.m., at the Westcott Community Center on the corner of Euclid Avenue and Westcott Street. About 50,000 bulbs have been planted in the Westcott neighborhood since the project started in 2003.
The giveaway is limited to those who live in the Westcott neighborhood. Residents can pick up a free packet of perennial daffodil bulbs with planting instructions as long as they are willing to plant them where they can be seen from the street for all to enjoy. A total of 5,400 bulbs will be set aside for the first 300 neighborhood residents who show up. Compost will be donated by Toad Hollow Farms; individuals should bring their own container.
The film "Vision of Utopia" will be shown for free at 11 a.m., co-sponsored by The Alchemical Nursery. The film, distributed by the Fellowship for Intentional Communities, features profiles of seven diverse communities across the United States. It also includes a fascinating history of 2,500 years of shared living in intentional communities. This film won the Communal Studies Association's Outstanding Project Award.
A panel discussion will be held at the conclusion of the screening to discuss reaction to the film, as well as intentional community and ecovillage initiatives in the Central New York region. The Alchemical Nursery is committed to promoting the development of regenerative lifestyles and landscapes, and furthering the principles of permaculture.
The Farmers' Market will feature produce from Daily Harvest Farms. Live music will be provided by Larry Hoyt and Friends. Also available will be handwoven baskets from Ghana through Bluetree Studios.
The event will also include a raffle. The prizes include six speciality packets, with 50-75 perennial bulbs each, from Pat Koloski, sales representative for VanBloem Gardens; a $50 gift certificate donated by Watson's Garden Center in Lafayette, N.Y.; a gardeners gift box donated by Syracuse Soapworks; a large wooden handmade flower box; and a gardening book.
All events are open to the public, with the exception of the bulb giveaway, which is limted to Westcott residents. For more information, contact Peter Wirth at 476-3396, pwirth2@verizon.net or visit