Campus & Community
'Lights Out' message continues to spread across campus
It's no accident that unoccupied classrooms and offices are darker this semester. This is a good thing, according to Syracuse University's Sustainability Division, because it means that more people are noticing and acting on the hundreds of additional "Lights Out" stickers that went up above light switches over the summer.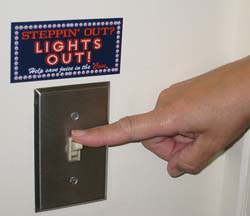 SU's "Lights Out" campaign is targeting wasteful electricity use throughout campus academic and administrative buildings. The stickers serve as a friendly reminder to "shut the lights off if you're the last person to leave a room." 
Using less electricity directly reduces SU's carbon footprint and is an important step toward helping the University implement its Climate Action Plan, which is the roadmap for SU to become climate neutral by 2040. 
"Simple things like turning lights off or shutting down your computer at the end of the day can really save a lot of energy when a lot of people do it consistently, and SU certainly has a lot of people," says Weston Berg, environmental studies graduate student at the SUNY College of Environmental Science and Forestry, and a Sustainability Division intern. "Never underestimate the large impact our collective actions can have." 
"Lights Out" stickers were placed throughout buildings last semester with the help of student volunteers. Sustainability Division staff members and Berg worked throughout the summer to place the stickers in more North Campus buildings, primarily those surrounding the Quad. 
"We still have our work cut out for us," says Melissa Cadwell, marketing manager for SU's Sustainability Division. "Stickers are still needed in buildings on the outer edges of North Campus, as well as in all South Campus buildings. It's a pretty time consuming process and we'll continue getting the stickers out this fall, hopefully with the help of many more student volunteers." 
Staff and faculty were very receptive to the "Lights Out" campaign's energy conservation message upon having the stickers placed in their work areas. "It's a great idea that actually needs to be expanded," says Susan Condron, office coordinator for Executive Education Programs at the Maxwell School. "It's important to educate people on other ways to save electricity and that these actions have value in helping the environment." 
While putting up the stickers, Sustainability Division staff noted that many people were already in the habit of shutting lights off before leaving a space and working under natural day lighting from their windows. 
"It was great getting out on campus and talking with faculty and staff," says Cadwell. "Some of the people we talked with had already adopted turning off their lights and some asked about other ways they could save electricity. Others we met did not realize the impact they could have on our campus with such a simple action and now have committed to turning their lights out." 
Students interested in volunteering to help place "Lights Out" stickers in campus buildings can contact SU's Sustainability Division at sustain@syr.edu or 443-9820.