Media, Law & Policy
McMahon talk focuses on folk arts as 'significant social capital'
Felicia "Faye" McMahon, associate research professor in the Department of Anthropology in the Maxwell School at Syracuse University, has been invited to coordinate "Many Faces, Many Stories, Many Traditions."  The program, showcasing traditional music and arts of southern Sudanese refugees, will be held at Le Moyne College from 2:30-4:30 p.m., Saturday, Sept. 25.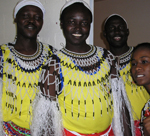 The afternoon event, which is co-hosted by McMahon and Darius Makuja, assistant professor of religious studies at Le Moyne, will educate the public about ethnic diversity within Syracuse's Sudanese community, while demonstrating the importance of folk arts in the lives of newly resettled people.
McMahon will open the program with introductory remarks on the bonding-bridging capacity of folk arts among the different ethnicities of "Lost Boys and Lost Girls." McMahon will share her perspective on why participatory folk arts of newcomers, open to the public, should be recognized as civic social capital. "The displaced around the world teach us that no community is without significant cultural resources, which have tremendous bonding-bridging capability," she says.
McMahon believes traditional arts often go unrecognized by mainstream institutions. "Why shouldn't folk arts of newly resettled people in our cities count as contributions to the public as a whole?" says McMahan. "Is the civic norm in the United States still solely defined by longstanding mainstream groups?"
For more than a decade, McMahon has been actively engaged in fieldwork and advocacy with uprooted people in Syracuse. A nationally recognized public sector folklorist, McMahon takes a community-assets approach in helping newcomers  regain and  re-establish meaningful places in the world by finding public spaces that will include new immigrants and refugees in community building initiatives. "Traditional arts, which both bond members and bridge to other groups, are essentially participatory. Bridging is as significant when it happens among new immigrant groups as when it occurs between immigrant and mainstream groups. We have something tremendously special in Syracuse, but if we want to preserve it, we have to nurture it and fund it long term," says McMahon.
Following remarks by McMahon and Makuja, the Didinga and Dinka groups will perform distinctive ethnic dances. Throughout the program, traditional crafts by Sudanese artists of Dinka, Didinga, Jurchol and Ndogo heritages will be demonstrated from 2:30-4:30 p.m. in Grewen Hall Auditorium. The program is sponsored by the Center for Peace and Global Studies, the Center for Urban and Regional Applied Research (CURAR) and St. Vincent de Paul Church. 
The program is free and open to the public. For directions or more information, contact Caroline Tauxe at tauxecs@lemoyne.edu or McMahon at (315) 443-6231 ext. 1.