Stone Canoe featured in CNY Magazine
Stone Canoe, a Journal of Arts and Ideas from Upstate New York, was featured in the fall edition of Central New York magazine. The magazine article focuses on the abundance of talent showcased in the journal, which is in production for its fifth edition.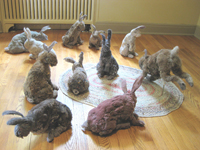 The journal has an eclectic mix of seasoned and new artists and contributors. Some of the artists/writers featured in the magazine were Ann Cofer, an adjunct faculty member in the Department of Fiber and Textile Arts at Syracuse University; Hayden Carruth, a well-known poet who taught at SU and passed away in 2008; Ann Knox, author and former editor of Antietam Review, who owns a home in the Adirondacks; A. Whitfield, an essayist and current inmate in a New York prison; Suzanne Proulx, internationally recognized artist and former fine arts instructor at SU; and Ann Reichlin, Utica resident and recipient of two fellowships in architecture/environmental structures from New York Foundation for the Arts.
The mission of Stone Canoe is to showcase the work of new artists and writers in the region, as well as new works by established artists and writers. According to Robert Colley, editor and associate dean at University College, "The established contributors are generous in offering us their work, which helps the journal's reputation and in turn helps advance the careers of their less experienced colleagues. "
Stone Canoe, a Journal of Arts and Ideas from Upstate New York, is published annually in the spring by University College. Submissions are welcome from March through August each year, and cash prizes are awarded for outstanding work in each category.