Campus & Community
Raffle of Stickley Limited Edition Collector's Piece will benefit SYRFILM
The Syracuse International Film Festival (SYRFILMFEST'10) has announced that raffle tickets are now available for a chance to win a Stickley Limited Edition Collector's Piece—The Harvey Ellis Cabinet, valued at $1,600. Each raffle ticket is $25, with no limit to the number of tickets that can be purchased by a single individual. All proceeds will benefit SYRFILM.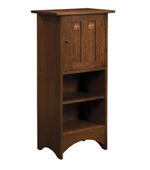 Since 1900, Stickley Furniture has been made in Central New York and is considered by experts to be an American classic. In 1989, Stickley, Audi & Co. began to reissue collectible pieces that are now considered modern classics. Thanks to the generosity of Stickley, Audi & Co., participants could win a Limited Edition Stickley Collector's Piece and also support another Central New York classic, the Syracuse International Film Festival.
The winner will be chosen on Sunday, Oct. 17, the closing day of SYRFILMFEST'10. Stickley furniture was donated to decorate the set of the film "Session," which was produced in Syracuse. "Session" will be shown during SYRFILMFEST'10 on Thursday, Oct. 14, at 7 p.m., at the Palace Theatre, 2384 James St., Syracuse.
Raffle tickets can be purchased online or by sending a check to SYRFILM headquarters at 500 S. Warren St., Syracuse, N.Y. 13202. Also, during the festival (Oct. 13-17), raffle tickets can be purchased at the the Palace Theatre or the Red House Arts Center.
In addition, anyone who purchases a Full Festival Pass ($165) will receive one complimentary raffle ticket. A Full Festival Pass entitles the bearer to admission to all 85 festival competition films and three special event screenings ("Pizza With Bullets," "Session" and "The Lodger").
To order tickets, call (315) 443-8826.