Arts & Culture
Sanford Sternlicht revisits 'Modern Irish Drama'
One of the most significant periods of Western theater is the subject of a newly updated and expanded book by Sanford Sternlicht G'62, English professor emeritus in Syracuse University's College of Arts and Sciences. "Modern Irish Drama: W. B. Yeats to Marina Carr," published by Syracuse University Press, charts the path of modern and contemporary Irish drama from its roots in the Irish literary renaissance of the late 1800s to its flowering in 20th-century world theater. The book also covers the lives and careers of more than 50 young contemporary Irish playwrights, featuring summaries of their key plays and recommendations for further readings.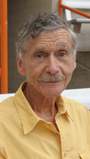 "This book examines major themes of modern Irish drama: suffering, poverty, the struggle for independence, the decline of the Anglo-Irish ascendency, the hunger for land, the waning power of the clergy, generational conflicts, urbanization, the tyranny of the father and the rise of feminism," says Sternlicht, an expert in Irish, British and American theater. "All of these themes figure prominently in recent Irish history and in the country's dramatic and theatrical landscape."
In addition to honoring luminaries such as Sean O'Casey, Samuel Beckett and Brian Friel, "Modern Irish Drama" devotes considerable ink to younger playwrights, including Martin McDonagh, Conor McPherson and Sebastian Barry. "These dramatists and other young playwrights are making inroads on both sides of the Atlantic, representing a new chapter in the history of Irish theater," Sternlicht says, adding that the book comes with a selected bibliography and filmography. "My hope is that this work will be an indispensable resource for students, readers, theater lovers and professionals."
In addition to promoting his book, Sternlicht has extended his commitment as the Speaker in the Humanities to 2014. In this capacity, he travels the state, presenting free lectures on humanities topics to the general public. Upcoming lectures include "All Things Herriot: James Herriot and His Peaceable Kingdom" on Thursday, Oct. 19, at 7 p.m. at DeWitt Community Library (3649 Erie Blvd., Syracuse) and "The Immigrant Saga: A Memoir of Life on the Lower East Side" on Sunday, Dec. 5, at Fountainview, a retirement community near Yonkers. Both lectures draw from popular books by Sternlicht and are presented under the auspices of the New York Council for the Humanities.
Also this fall, Sternlicht is teaching "The Literature of the Lower East Side" through OASIS, a national education organization dedicated to enriching the lives of mature adults. "The first generation of Jewish American writers started a tradition of erudite, as well as popular reading based on the immigrant experience," he explains. "In this course, we will read and discuss works by Abraham Cahan, Anzia Yezierska and Michael Gold, as well as view film versions of seminal books." For more information about the weekly class, which runs from Sept. 13-Nov. 15, call (315)464-6555.
Sternlicht joined the SU faculty in 1981, after teaching at the State University of New York at Oswego for nearly three decades. The former U.S. Navy officer has since held various appointments at SU, including acting director of the Judaic Studies Program and editor of SU Press' Irish Studies Series. In addition to being a published poet, Sternlicht is a prolific scholar, author, editor and theater director. His numerous books include "A Reader's Guide to Modern American Drama" (2002) and "A Reader's Guide to Modern British Drama" (2004), both published by SU Press.