Campus & Community
Point of Contact Gallery presents 'La Colección'
Point of Contact will present a special program, "La Colección," a monthly show of the entire permanent collection in five exhibitions from September 2010 to January 2011. Special events will be held at the gallery on the Third Thursday of each month. The program commemorates the organization's 35th anniversary and Point of Contact Gallery's fifth anniversary.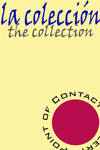 Original works created over the past three decades especially for Point of Contact's book series form this rare collection of more than 200 pieces of photography, collage, drawings, paintings and three-dimensional works donated by their creators. "Each project, a visual metaphor, is an autonomous work deployed in its own terms and in its own visual space, intertwined in a purely alternative way," says Pedro Cuperman, founder and director of Point of Contact.
In 1975, Punto de Contacto/Point of Contact originated a journal about the verbal and visual arts, known as Punto de Contacto first, and later as Point of Contact. In time, this journal, now a book series, has become a medium for some of the most relevant contemporary artists around the globe and many of them have become long-time collaborators, co-creators and designers of a project that continues to evolve and move forward in unforeseen ways.
"La Colección" comprises works by Burt Barr, Roy Bautista, Luis Camnitzer, Pérez Celis, Marta Chilindrón, Papo Colo, Gregory Crewdson, Jaime Davidovich , Katherine Desjardins, Nancy Graves, Joseph Kugielsky, Elka Krajewska, Alberto Lastreto, Hung Liu, Marco Maggi, Luis Felipe Noe, Nam June Paik, Izhar Patkin, Judy Pfaff, Cesar Paternosto, Liliana Porter, Regina Silveira, Ana Tiscornia and Ursula Von Rydingsvard.
Point of Contact Gallery is located at 914 East Genesee St., Syracuse. For more information, visit http://www.puntopoint.org.