SU art and design faculty showcase work in 'Pliable Planes' at The Warehouse
Five members of the School of Art and Design faculty in Syracuse University's College of Visual and Performing Arts (VPA) will showcase their work in "Pliable Planes: Cloth & Beyond," Sept. 7-29 at the Design Gallery at The Warehouse, 350 W. Fayette St., Syracuse. The exhibition is free and open to the public. An opening reception will be held Saturday, Sept. 11, from 5-7 p.m. Regular gallery hours are Monday-Friday, 9 a.m.-5 p.m.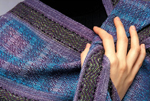 The artists featured include Anne Cofer, Mary Giehl and Sarah Saulson—faculty members in fiber arts/material studies in the Department of Art—and Marion Dorfer and Eileen Gosson—faculty members in surface pattern design in the Department of Design.
Cofer, an installation artist, had her first museum solo exhibition "Concealed Objects" at the Everson Museum of Art in spring 2009 and a permanent site-specific project for SU's Hinds Hall installed in May. She has been published nationally in Ceramics Monthly and internationally in Ceramics Art and Perception. Her work has been pictured in the New York Times and was selected for "500 Ceramic Sculptures" (Lark, 2009).
Dorfer began her successful freelance business, MY Designs, after graduating from SU. From 1986-2004, she collaborated with her agent John Sacks of Jane-Albert Studios Inc. in New York City. Her speculative design work was exhibited and sold yearly at the studio as well as at the Surtex (New York City), Heimtextil (Germany) and Indigo (France) trade shows. Through Jane-Albert Studios and independent commissions, she has created designs for printed and woven textiles, wall covering, glass, ceramic products and paper products.
Giehl, who creates installations as well as two-dimensional work and sculpture, recently exhibited her work in group shows at Munson-Williams-Proctor Museum of Art in Utica, N.Y.; ArtRage and Point of Contact Gallery in Syracuse; the Schweinfurth Memorial Art Center in Auburn, N.Y.; and Main Street Gallery in Groton, N.Y. Her numerous community art projects include serving as guest curator for Syracuse's Lipe Art Park, where she is working to enhance the park's 600-foot fence by creating an abstract image of the Erie Canal using felt made from recycled plastic bottles.
Gosson's professional career began as a designer and colorist for Scalamandré Silks in New York City; she later worked as an assistant to Anne Marie de Samarjay, owner of Samarjay Associates, a surface pattern design agency in Manhattan. That position led to 20-plus years of freelance design experience for multiple product categories within industry. Her clients include Waverly, a division of F. Schumacher & Co.; Brewster Wallcovering Co.; Kenneth James line; Martha Stewart Living Omnimedia; Lynn Hollyn Associates, the Smithsonian Institution; Warner Wallcovering; Western Textile Co.; and Brunschwig & Fils.
Saulson is a professional handweaver and workshop leader with an interest in ethnic textiles and processes. She served on the board of Weave a Real Peace, an organization that serves as a catalyst for improving the quality of life of weavers and textile artisans in communities-in-need, and she has taught dyeing and weaving in Ghana, where she also conducted a research project on craft cooperatives for SERRV International, a nonprofit, fair trade organization. She recently exhibited her work at Lowell National Historical Park in Massachusetts.
For more information, contact Giehl at mgiehl@yahoo.com or the Department of Design at 443-2455.