Arts & Culture
Near Westside 601 Tully Project to hold groundbreaking ceremony and community drawing event on Oct. 5
The design/build team of the 601 Tully Project invites the community to attend its groundbreaking ceremony and community drawing event to be held Tuesday, Oct. 5, at 2 p.m. at the 601 Tully site next to Blodgett School in the Near Westside neighborhood of Syracuse.   The brief ceremony and community art activity will be followed by coffee and cupcakes provided by Cake Kubal and Lee Conant, future tenants of the 601 Tully property.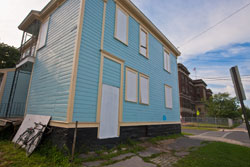 601 Tully is a unique community engagement project facilitated by a group of Syracuse University art and architecture students led by artist Marion Wilson, director of community initiatives in the visual arts at the School of Education. 
"Tuesday's 'breaking ground' brings together the neighbors, supporters and partners of the 601 Tully Project to celebrate a giant step toward the fulfillment of our vision for a community storefront for the arts, publishing, entrepreneurship and horticulture," says Wilson. 
Conceived out of Wilson's interdisciplinary higher education curriculum called Social Sculpture, which situates community engagement within the context of contemporary public art practice, the 601 Tully building will be renovated into a multi-purpose space to house several partners, who will be vital sources of Near Westside neighborhood programming in art, writing, education and entrepreneurship. The businesses and activities at 601 Tully will be sustained by porous interactivity between neighbors, SU and Fowler High School Business Academy students, and University units.
601 Tully business partners will include: 
Café Kubal: Coffee for the Soul (Matt Goddard, proprietor): offering barista classes and bake goods by Lee Conant, employing students from Fowler High School;
Stephen Parks, director or New City Community Press: publishing the stories and writing of local communities and community members as a way to address issues of national and global significance through the voices of community members;
Say Yes to Education and SUNY ESF: maintaining a community teaching garden and sculpture park onsite, providing space for community gardening, science education, urban farming and outdoor sculpture.  
The 601 Tully project is supported by SU's School of Education, Enitiative, Say Yes to Education, the SALT District, Home Headquarters, and Imagining America.  For more information, visit the 601 Tully blog at http://601Tully.blogspot.com, or the School of Education at http://soe.syr.edu.