Arts & Culture
'Monumental Printstallations' at XL Projects showcases large-scale works from SU's Lake Effect Editions
Large-scale works created by artists at Lake Effect Editions, the press of the printmaking program at Syracuse University's College of Visual and Performing Arts (VPA), are the subject of the exhibition "Monumental Printstallations" at XL Projects, 307–313 S. Clinton St., Syracuse. The show, which is free and open to the public, is on view through Thursday, Sept. 23. A reception will be held Thursday, Sept. 16, from 6-8 p.m. in conjunction with the Third Thursday (Th3), Syracuse's city-wide art open. Regular exhibition hours are Wednesday-Sunday, noon-6 p.m.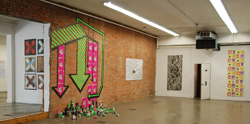 "Monumental Printstallations" features the work of student, faculty and visiting artists, including Nicholaus Arnold, Marco Camacho, Susan Edmunds, John Hancock, Dusty Herbig, Neil Hueber, Eric Johanni, Rich Kim, Kristen Leonard and Sam Tobias.
The printmaking program is a part of the Department of Art in VPA's School of Art and Design. The program and Lake Effect Editions are located in the Comstock Art Facility on the SU campus.
For more information, contact Herbig, assistant professor of printmaking, at dtherbig@syr.edu. XL Projects may be contacted at (315) 442-2542 during gallery hours.