STEM
Syracuse iSchool, MLB.com team up to launch technology development contest
The Syracuse University School of Information Studies (iSchool) and MLB Advanced Media (MLBAM), the interactive media and Internet company of Major League Baseball, have teamed up to challenge iSchool students to see if they have what it takes to make it in the big leagues. They are sponsoring the MLB.com University Challenge, a contest that invites students to develop new ideas that could end up on MLB.com, the official web site of Major League Baseball.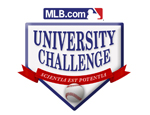 The competition will put teams of students to the test by asking them to attack real-world problems in the world of technology and sports. Teams will submit competing solutions to demonstrate their creativity, insights and talents in a fun, interactive environment.
"We are so excited to be partnering with MLB Advanced Media to offer this unique opportunity to our students," says Julie Walas, director of undergraduate recruitment at the iSchool. "Our students are technically savvy users of interactive sites like MLB.com, so we think they'll come up with some insightful and innovative proposals for MLB Advanced Media to consider implementing."
Syracuse iSchool alumni and MLB.com employees Josh Frost '08 and Joe Kanakaraj '00, along with fellow SU graduate, Mike Hoffman '93, helped initiate the contest with Walas and iSchool Professor Jeffrey Rubin.
"A program like this offers students unique opportunities to put their iSchool experiences to immediate use in an educational, challenging and team-oriented environment," Frost says. "We eagerly await the many original, thought-provoking concepts this year's iSchool students are sure to deliver."
All iSchool students are encouraged to register and form a team, consisting of two to five members. All teams must register online at http://mlbam.ischool.syr.edu by 5 p.m., Friday, Sept. 17.
The teams will have two months to develop their proposals and will have the opportunity to interact with MLBAM employees during a virtual Q&A session on Oct. 22.
Teams are required to submit a draft proposal to the iSchool project coordinators by Nov. 1. Final proposals are due by 5 p.m., Friday, Nov. 12.
Selected members of each team that complete the contest will be given a fully funded, once-in-a-lifetime trip to MLB.com headquarters in New York City to pitch their final proposal. Each member of the winning team will receive MLB.com prizes, including a subscription to MLB.TV Premium Yearly for the 2011 MLB season and merchandise packages from the MLB.com shop.