Health & Society
Marion Nestle, public health and nutrition expert, to speak at SU Sept. 15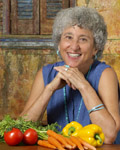 Marion Nestle, public health and nutrition policy expert and the Paulette Goddard Professor in the Department of Nutrition, Food Studies, and Public Health at New York University, will address "Public Health and the Obesity Epidemic" on Wednesday, Sept. 15. The presentation is free and open to the public and will take place in Lyman Hall, Room 310, from 12:45-2:05 p.m. Nestle is being brought to the University by the College of Human Ecology's Research Center and the Department of Nutrition Science and Dietetics.
An award-winning nutrition researcher and author, Nestle will discuss public health approaches to the obesity epidemic. In addition to serving as a faculty member in the Department of Nutrition, Food Studies and Public Health, Nestle holds appointments as professor of sociology at NYU and visiting professor of nutritional sciences at Cornell University. She previously held faculty positions at Brandeis University and the University of California, San Francisco (UCSF) School of Medicine. She served as senior nutrition policy advisor in the Department of Health and Human Services from 1986-88, and as managing editor of the 1988 Surgeon General's Report on Nutrition and Health.
"The nutrition faculty are delighted that Dr. Nestle will be on campus to interact with our students," says Kay Stearns Bruening, nutrition science and dietetics department chair. "Her books are very provocative and she is a dynamic speaker."
Nestle earned her Ph.D. in molecular biology and an M.P.H. in public health nutrition, both from the University of California, Berkeley.
For more information contact Bruening at ksbrueni@syr.edu.