Visiting printmaker Jon Swindler to lecture at VPA Sept. 23
Printmaker Jon Swindler, assistant professor at the Lamar Dodd School of Art at the University of Georgia in Athens, will serve as a visiting artist for the printmaking program in Syracuse University's College of Visual and Performing Arts (VPA), Sept. 22-24. His visit includes a free, public lecture on Thursday, Sept. 23, at 6:30 p.m. in room 022, Comstock Art Facility (ComArt), 1055 Comstock Ave., Syracuse. Parking is available in the Manley North lot.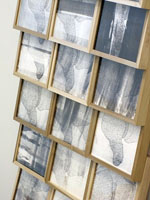 A reception will follow the lecture in conjunction with an exhibition of Swindler's work in the Sarah A. Coyne Gallery, on the second floor of ComArt. The reception is also free and open to the public.
Swindler, who teaches all levels of printmaking courses at the Lamar Dodd School of Art, has exhibited his work in numerous solo, competitive and invitational exhibitions throughout the United States, Canada and Europe. He has also performed visiting artist workshops at such institutions as the Art Academy of Cincinnati; the Academy of Visual Arts in Ghent, Belgium; and at the University of New Orleans.
A Kansas native, Swindler holds a bachelor of fine arts degree from Fort Hays State University and a master of fine arts degree from Southern Illinois University in Carbondale. Learn more at http://jonswindler.com.
For more information about the events, contact Dusty Herbig, assistant professor of printmaking, at dtherbig@syr.edu.