Campus & Community
Malmgren Concert Series kicks off new season with the I-90 Collective
The I-90 Collective baroque chamber ensemble will kick off the 2010-11 Esther Drake and John Vincent Malmgren Concert Series at Syracuse University on Sunday, Sept. 19
The concert will begin at 4 p.m. and is free and open to the public. Parking is available in the Irving Garage and in the University's West lots.
The program will feature works by Handel, Bach and Boccherini.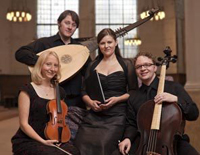 The I-90 Collective is quickly establishing itself as one of the Northwest's premier chamber ensembles. With a repertoire extending from the dawn of the baroque era to the works of Bach and Boccherini, the I-90 Collective's improvisatory style blends the virtuosity of violin and cello with the intimacy of voice and lute.
Founded in 2009 on the interstate highway that links Seattle and Bozeman, Mont., the ensemble is comprised of four baroque soloists—Linda Tsatsanis, soprano; Carrie Krause, violin; Nathan Whittaker, cello, and John Lenti, theorbo. The ensemble as performed extensively across the country and abroad.
The concert is part of the Malmgren Concert Series at Hendricks Chapel. The series was made possible by a generous gift to Hendricks Chapel from alumna Esther Malmgren '42 in 1991. The free Sunday afternoon concerts, held throughout the year, feature a wide variety of music.
Other scheduled performances in the 2010-11 Malmgren season are the Hawthorne String Quartet: Music from Terezin (Nov. 7); a Rising Star Recital featuring organist Chelsea Vaught (Feb. 20, 2011); and organist Jack Mitchener (March 27, 2011).
Call Hendricks Chapel at 443-2901 for more information.