Pro Football Hall of Famer Floyd Little '67 and wife DeBorah to host Orange Central Bash Oct. 15; includes presentation of 2010 Orange Circle Awards honoring those who work to better the world

Establishing medical havens for families of injured military personnel, laying the foundation for a Syracuse University campus in Los Angeles, helping veterans rebuild their lives, creating sustainable income for women in underdeveloped countries, growing bone marrow donor lists. These altruistic efforts by SU alumni, friends, faculty, staff and students will be recognized during the presentation of the 2010 Orange Circle Awards at this year's Orange Central Bash on Friday, Oct. 15. The event will be hosted by Class of 2010 Pro Football Hall of Famer and SU alumnus Floyd Little '67 and his wife DeBorah.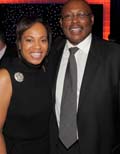 The Orange Central Bash is a pinnacle event of the University's Orange Central celebration, which takes place Oct. 14-17 on the SU campus. Orange Central includes class reunions, special group reunions and Homecoming, all rolled into one exciting weekend.
Beginning at 4 p.m. in Goldstein Auditorium at the Hildegarde and J. Myer Schine Student Center, the fast-paced, celebratory reception and awards presentation are free and open to the public, with free parking available at the Booth Garage (corner of Waverly and Comstock avenues) and Irving Avenue Garage (entrance on Stadium Place).
"This year's Orange Circle honorees exemplify the SU tradition of taking on global challenges by finding ways to make an impact on them in a local context," says SU Chancellor and President Nancy Cantor. "From coast to coast, at home or abroad, these members of the SU family are demonstrating that each one of us can make a huge difference in the lives and livelihoods of others. We are proud to celebrate them—and in doing so, celebrate SU's proud history of serving the public good."
2010 Orange Circle Award recipients:
Fisher House Foundation. SU Trustee Winston C. Fisher '96 will be accepting the Orange Circle Award on behalf of the Fisher House Foundation, which has donated "Fisher Houses" to major military medical centers across the country, ensuring that veterans and active personnel have loved ones nearby during their times of greatest need.
Marshall M. Gelfand '50. Thanks in large part to Gelfand's vision and tenacity, SU now has a thriving alumni and student presence on the West Coast. As a tireless leader in the SU Alumni Club of Southern California, an advocate on the SU Board of Trustees and generous donor, Gelfand laid the groundwork for SU in LA, which has grown to a staff of four, offers multiple events and supports students living and studying in Los Angeles.
Entrepreneurship Bootcamp for Veterans with Disabilities (EBV). This successful and now nationwide program helps veterans rebuild their economic potential by giving them the skills needed to launch small businesses. EBV founder Mike Haynie, assistant professor of entrepreneurship in SU's Martin J. Whitman School of Management, and EBV graduate Brian P. Iglesias, president and CEO of Veterans Inc., will accept the award on behalf of EBV.
Students in Free Enterprise (SIFE). Working with the women weavers of Chumanzana, Guatemala, this Whitman School-based student group created a successful thread supply store. The store helps create sustainable incomes for the women by cutting their time and travel expenses and by empowering them to run the store independently. Accepting the award will be SU senior Sierra Fogal, SIFE president.
Miriam Loewy Friend Hillel Program (at the Winnick Hillel Center for Jewish Life at Syracuse University), Gift of Life Campaign. Through the Gift of Life campaign, Hillel at SU registers potential bone marrow donors and raises awareness for the need to maintain and grow bone marrow donor lists. Since 2004, Hillel at SU's three bone marrow drives registered more than 1,000 students, faculty and staff. Junior Michael Weiss, president of Hillel at SU, will accept the award.
Orange Circle Award recipients will receive a custom-designed sculpture created by SU alumnus Peter Yenawine '69. The crystal award symbolizes philanthropy's ever-widening circle of impact and ripple effect of change.
"Awarding the Orange Circle recipients at the Orange Central Bash is a perfect way for us all to take a moment to say 'thank you' to those who put their passions to work for the common good," says Thomas J. Walsh, executive vice president of advancement and external affairs at SU. "We hope all will join us to celebrate and honor them."
Recipients of the 2010 Orange Circle Award were selected by a cross-campus group of alumni, students, faculty and staff in consultation with the SU National Alumni Board. Additional information regarding nomination criteria is available at http://www.syr.edu/alumni/awards/Orange-Circle-Award.html.
For more information on Orange Central and an up-to-the-minute schedule of events and activities, visit http://orangecentral.syr.edu. Attendees are asked to R.S.V.P. for the Orange Central Bash and the Orange Circle Awards presentation by Friday, Oct. 8, by e-mailing April Maw at ocbash@syr.edu, or calling (866) 933-3334.
For questions and disability-related accommodations, contact the Office of Alumni Relations at 1-800-SUALUMS (782-5867) or e-mail sualumni@syr.edu.