Campus & Community
University Community Harvest Farmers' Market series continues on three Fridays this fall
The 2010 University Community Harvest Farmers' Market series will continue on three upcoming Fridays—Sept. 24, and Oct. 8 and 22—from 11 a.m.–3 p.m. in the Waverly lot, located on the corner of Waverly and South Crouse avenues on the Syracuse University campus.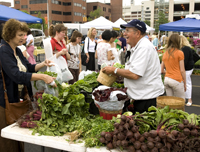 Presented by SU and the SUNY College of Environmental Science and Forestry and open to the public, the market features a wide variety of locally grown fruits and vegetables, plants, snacks, condiments, ceramics and handmade soaps, as well as educational literature on healthy eating, sustainable practices and organic farming.
For those driving to campus, free parking will be available in the University Avenue Garage.
This fall's vendors include:
Bluetree Studios;
Bootin' Gluten (gluten-free foods);
Butternut Pottery;
Chuck Carpenter Plants;
Cobblestone Valley Farm;
CSA of CNY;
Drover Hill Farm;
Echols Gourmet Wholesale Desserts;
Environmental Finance Center at SU;
Grindstone Farms;
Hahn's Farm;
The Hick Chick (gift baskets);
Ma & Pa's Kettle Corn;
Mercy Din Jewelry;
Monarch Farm;
Mumbling Mountain (natural balms and lotions);
Onondaga County Health Department;
Organically Hip;
Spud Shack;
SU Bookstore;
SU Food Services;
SUNY College of Environmental Science and Forestry;
Sweetrees Maple Products;
Wake Robin Farm;
Watson Greenhouse;
Wheels, Bricks and Wedges (cheeses); and
Wylie Fox Farm.
For more information on the markets, call 443-3608.