Campus & Community
Digital Witness Symposium explores how new digital media are transforming human rights activism
Illuminating Oppression: 8th Annual Human Rights Film Festival at Syracuse University will inaugurate a new strand of its annual programming this year with the Digital Witness Symposium on Friday, Oct. 1, at 11 a.m. in the Joyce Hergenhan Auditorium in Newhouse 3.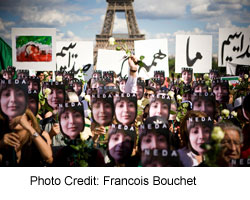 This special event brings together internationally recognized experts in the field of human rights media to discuss the ongoing innovations and future implications of the increasing turn to new digital media by human rights activists. The three speakers are Mallika Dutt, president and CEO of the international human rights organization, Breakthrough; Sam Gregory, program director at WITNESS; and Fred Ritchin, professor of photography and imaging at New York University's Tisch School of the Arts. Dutt was one of the original founders of the film festival in 2003.
Human rights media are quickly transforming within a media environment increasingly defined by digital convergence that allows for the rapid and incessant flow of information and images through multiple media. Activists, filmmakers and nongovernmental organizations are now turning to new digital media technologies and networks to facilitate new forms of human rights activism on local, national and global levels.
The symposium will examine the exciting opportunities, as well as the difficult challenges, created by such new developments: How can social networks be mobilized for effective campaigning? How can activists and organizations sustain public interest in the never-ending information glut? Do new media technologies transform the power of images to bring about change?
"Images have long been powerful tools for human rights activism, especially when we think of famous press photographs that have transformed public opinion and pressured governments to act," says Roger Hallas, associate professor of English in The College of Arts and Sciences and co-director of this year's festival. "New digital media bring enormous opportunities to accelerate and widen the impact of such powerful images, but they also pose new challenges, such as the risks of information glut and compassion fatigue."
Dutt is president and CEO of Breakthrough, an innovative, international human rights organization using the power of popular culture, media and community mobilization to transform public attitudes and advance equality, justice and dignity. She has authored several articles and essays, including the widely referenced "With Liberty and Justice for All: Women's Human Rights in the United States." She was also the co-author of the globally utilized manual, "Local Action Global Change: Learning About the Human Rights of Women and Girls," which has been translated into more than 10 languages. Prior to founding Breakthrough, Dutt was the program officer for the Human Rights & Social Justice Program at the Ford Foundation's New Delhi office. She has also served as the associate director of the Center for Women's Global Leadership at Rutgers University, and as the director of the Norman Foundation. She currently serves on the Open Society Institute U.S. Programs Board, the WITNESS Board of Directors, the Games for Change Advisory Board and the Rights Working Group Steering Committee. Dutt is a member of the New York State Bar. She has a J.D. from New York University Law School, a master's degree in international affairs from Columbia University and an undergraduate degree from Mount Holyoke College.
Gregory is the program director at WITNESS, which trains and supports people to use video in human rights advocacy. In 2005, he was the lead editor on "Video for Change: A Guide for Advocacy and Activism" (Pluto Press), and in 2007, he developed WITNESS' Video Advocacy Institute, an intensive two-week training program. Most recently he taught an intensive immersion activity on "Human Rights Advocacy Using Video" at the Harvard Kennedy School. He has worked extensively with grassroots human rights activists, particularly in Latin America and Asia, in integrating video into campaigns on a range of civil, political, social, economic and cultural human rights issues. Videos Gregory has co-produced have been screened to decisionmakers in the U.S. Congress, the U.K. Houses of Parliament, the United Nations and at film festivals worldwide. He attended the Harvard University Kennedy School of Government on a Kennedy Memorial Scholarship, and graduated with a master's degree in public policy. He has worked as a television researcher/producer in both the U.K. and United States, and for development organizations in Nepal and Vietnam. Gregory holds a bachelor's degree in history and Spanish from Oxford University.
Ritchin is professor of photography and imaging at New York University's Tisch School of the Arts and program director for a new educational collaboration between NYU and the Magnum Foundation on Photography and Human Rights. He is also director of Pixel Press, creating web sites, books and exhibitions investigating new documentary strategies and promoting human rights, including projects to end polio globally and to support activities connected to the Millennium Development Goals. He is the author of  "After Photography " (W.W. Norton & Co., 2009) and "In Our Own Image: The Coming Revolution in Photography" (Aperture, 1990, 1999), and a co-author of books such as "An Uncertain Grace: The Photographs of Sebastiao Salgado" (Thames & Hudson, 1990); "In Our Time: The World As Seen by Magnum Photographers" (W.W. Norton & Co., 1989); and "Mexico Through Foreign Eyes" (W.W. Norton & Co., 1993). Ritchin is the former picture editor of Horizon magazine and the New York Times Magazine, former executive editor of Camera Arts magazine and the founding director of the photojournalism and documentary photography educational program, International Center of Photography. He was the curator of such exhibits as "Contemporary Latin American Photographers" (1987); "An Uncertain Grace: The Photographs of Sebastiao Salgado" (1990); and "The Legacy of W. Eugene Smith: Twelve Photographers in the Humanistic Tradition" (1991), and the co-curator of "Mexico Through Foreign Eyes: Photographs, 1850-1990" (1992). Ritchin and photographer Gilles Peress were nominated for the Pulitzer Prize in Public Service by the New York Times for the web site "Bosnia: Uncertain Paths to Peace" (1997).
The symposium is free and open to the public, and parking will be available for $4 in the University Avenue Garage.
The symposium is made possible through major funding from the Mellon Central New York Humanities Corridor, an Andrew Mellon Foundation initiative located in the SU Humanities Corridor. Additional support has been provided by Imagining America. More information on the symposium can be found at http://syracusesymposium.org/symposia.
Illuminating Oppression: 8th Annual Human Rights Film Festival is part of the 2010 Syracuse Symposium, presented by the SU Humanities Center. This year's theme is "Conflict: Peace and War."