Campus & Community
Performance art group plans Sept. 11 sitting meditation on the SU Quad
Members of the City Meditation Crew (CMC), a performance art group, are planning a sitting meditation on Saturday, Sept. 11, from 8:45-10:45 a.m. on the Syracuse University Quad. During this time, members of the group will silently read the Qur'an, the central religious text of Islam.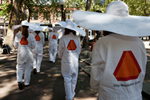 The Manhattan-based CMC makes gestures and movements slowly and silently in public to inspire passersby to pay attention to their surroundings, both physical and cultural. On Saturday, the group will silently read and meditate upon passages of the Qur'an suggested by Tanweer Haq, assistant Islamic chaplain at SU. CMC members remain anonymous to emphasize what they do, rather than who they are. The public is invited to sit alongside CMC members in silent meditation.
The City Meditation Crew performance was originally planned to coincide with the proposed burning of the Qur'an by a pastor of a Florida church. CMC's intention is to call attention to a non-violent stance in a climate of religious intolerance and hate. Saturday's time was also chosen to coincide with the times of the plane crashes on Sept. 11, 2001. Although the Florida burning has reportedly been canceled, the CMC meditation event will continue as a way to pay attention to Sept. 11 from a peaceful and inclusive standpoint.
"We are upset and alarmed by the current attempts to spread hate against Islam and the Muslim community. We call for respect for America's tradition of religious liberty," says Haq. "We together bear the responsibility to honor this tradition and promote a culture of mutual respect and understanding. Hate against one religion sanctions hate against all religions. Silence in the face of bigotry is not an option."
The meditation event by CMC will be followed by a time of silent individual reflection hosted by Hendricks Chapel Dean Tiffany Steinwert from 10 a.m.-1:30 p.m. in the chapel. This event will be held in any event.
"I think it is important that we at SU witness peace and religious inclusion," says Steinwert. "Here at Hendricks Chapel, we believe the best response to hate and violence are concrete acts of solidarity and love. As such, we hope that these events will stand as our witness against such intolerance and injustice."
For information on CMC, contact info@citymeditationcrew.org or visit http://citymeditationcrew.blogspot.com.