Campus & Community
SU Chancellor Nancy Cantor, OCC President Debbie Sydow join with artist, SU alum Carole Eisner to dedicate two sculptures at OCC
On Wednesday, Sept. 15, Syracuse University Chancellor Nancy Cantor joined Onondaga Community College President Debbie L. Sydow to welcome to the OCC campus artist, sculptor and SU alumna Carole Eisner '58 for the dedication of two sculptures: "Giunta," 1988, and "Ziggurat," 2002.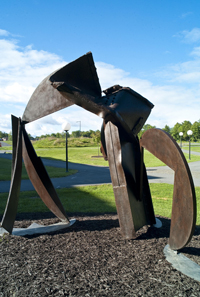 Cantor said, "I am thrilled to join Debbie Sydow and OCC in this dedication because it honors the work of one of SU's own—Carole Eisner—but also demonstrates the power of art to bring us together in common purpose and community. These sculptures are a striking visual reminder of our shared commitment to the arts as public good and to collaborative engagement that transcends institutional boundaries in ways that can enrich the entire community."
Eisner is a sculptor specializing in monumental metal sculpture crafted from scrap and recycled metal. Her studio is located in Weston, Conn., and through the years the artist has moved from tabletop steel pieces to larger-than-life outdoor sculptures that decorate city parks and other public spaces across the Northeast.
Her work is featured in public and corporate collections including the Guggenheim Museum; a commission to Culture and Tourism, Hartford, Conn., as part of a six-mile sculpture park; National Associates, Inc.; Southeast Banking Corp.; Northstar Reinsurance Co.; Knoll International; FMC Corp.; Skadden; Arps; Meagher & Flom; Orion Bank, Ltd.; Goldmark Partners Inc.; Bill Silver Associates; and W&M Properties.
Eisner earned a bachelor of fine arts degree from SU and is also a graduate of the International School of Photography. Her extensive body of work is featured on her website, http://www.caroleeisner.com.