Arts & Culture
Syracuse University Department of Drama presents 'Cabaret'
Kander and Ebb's groundbreaking musical "Cabaret" will inaugurate the Syracuse University Department of Drama's 2010-11 season. The show will run Oct. 1-10 in the Archbold Theatre at Syracuse Stage.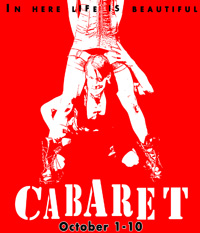 Originally directed on Broadway in 1966 by Harold Prince, "Cabaret" won eight Tony Awards, including Best Musical. The musical inspired the eight-time Academy Award-winning 1972 film, starring Liza Minelli as Sally Bowles.
For the first time, a cast comprised wholly of SU Drama students will be showcased in the John D. Archbold Theatre, more than twice the size of SU Drama's home-base, Storch Theatre, next door. The production, directed and choreographed by David Wanstreet, will feature an onstage cabaret orchestra sitting atop the second tier of the set, in addition to intimate cabaret seating lining the front of the audience (sold at an additional fee).
The season sponsor for SU Drama is WAER. Tickets are available by calling (315) 443-3275 or by visiting http://vpa.syr.edu/drama. "Cabaret" is recommended for ages middle school and up.
"It's a brilliant piece of theatre," says Wanstreet. "'Cabaret' is a cautionary tale about a society in trouble, and I think that still resonates today." Previously for SU Drama, Wanstreet has directed 'Anything Goes,' 'Sweet Charity,' 'Damn Yankees,' 'Chicago' and 'Steel Pier.'
Producing Artistic Director Timothy Bond chose to allow the SU Drama students full access to the expansive Archbold stage, to strengthen the relationship between the Department of Drama and Syracuse Stage, and to allow the students the opportunity to perform in a larger setting. In previous years, students have participated in co-productions with Syracuse Stage, such as last year's "Little Women," but "Cabaret" marks the first time an all-student production will play the 500-seat Archbold Theatre.
The production will star Hannah Corneau (seen last season as Diana in "I Love You Because") as Sally Bowles; Chris Dwan (previously seen as Leo Davis in last season's "Room Service") as the emcee; and Kenny Metzger (Valentine in last season's "Two Gentlemen of Verona") as Cliff Bradshaw.