Pulse announces 2010-11 season
The 2010-11 season of Syracuse University's Pulse Performing Arts Series features a selection of ticketed performances. This year's line-up includes an SU Family Weekend concert by jazz musician Branford Marsalis and his band, a performance by the Lar Lubovitch Dance Company, a free concert by the United States Air Force Airmen of Note and a Black History Month performance by Broadway legend Brian Stokes Mitchell. All performances will take place in the Goldstein Auditorium of the Hildegarde and J. Myer Schine Student Center on the SU campus.
Pulse, presented by SU's Division of Student Affairs, provides SU undergraduates and, in turn, the Central New York community, with out-of-classroom opportunities to attend and participate in programs, performances, exhibitions and events in the performing and visual arts.
"The Pulse program is a wonderful opportunity to see world-renowned performing artists right here in our community," says Thomas V. Wolfe, senior vice president and dean of student affairs. "This fall's diverse mix of modern dance, jazz, big band and musical theater, along with the variety of events presented by our Pulse Partners, make for a series bound to captivate audiences from start to finish."
Branford Marsalis
SU Family Weekend Concert
Sunday, Sept. 26 at 2 p.m.
Paid performance; tickets required
Free parking available in all SU lots during Family Weekend
Recognized as one of the world's most accomplished jazz musicians, Marsalis, along with his band, will take the stage for a performance during SU Family Weekend. A three-time Grammy winner from one of the world's most distinguished musical families, Marsalis is known for his innovative spirit and broad musical scope.
Equally at home on the stages of the world's greatest clubs and concert halls, Marsalis has performed jazz with his quartet. He adds his own unique musical approach to contemporary popular music with his band Buckshot LeFonque.
His latest CD, "Metamorphosen," marks the 10th anniversary of the quartet, which features pianist Joey Calderazzo, bassist Eric Revis and drummer Justin Faulkner. The CD includes original compositions by all four members in a variety of moods, and features Marsalis on tenor, soprano and alto saxophones.
Lar Lubovitch Dance Company
Thursday, Nov. 11 at 8 p.m.
Paid performance; tickets required
Paid parking available in Booth and University Avenue garages for $4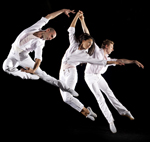 Founded by versatile and acclaimed choreographer Lar Lubovitch in 1968, the Lar Lubovitch Dance Company is one of the world's foremost modern dance troupes. Based in New York City, the company has performed extensively across the nation, in more than 30 foreign countries and has been seen by millions on television.
The company exists to create and perform new works by Lubovitch and to teach people of all ages, ethnicities and socio-economic backgrounds in order to increase awareness and appreciation of dance. The troupe is also committed to collaboration and service to the dance community.
Lubovitch's dances are renowned for their musicality, rhapsodic style and sophisticated formal structures. His radiant, highly technical choreography and deeply humanistic voice have been acclaimed throughout the world.
In recognition of its work, the Lar Lubovitch Dance Company has received numerous awards and grants from the National Endowment for the Arts, the New York State Council on the Arts and from foundations, including the Lila Wallace-Reader's Digest Fund.
United States Air Force Airmen of Note
Monday, Nov. 15 at 8 p.m.
Free performance; tickets required
Paid parking available in Booth and University Avenue garages for $4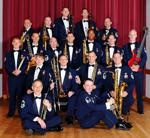 The premier jazz ensemble of the U.S. Air Force, the Airmen of Note was created in 1950 to carry on the tradition of Major Glenn Miller's Army Air Corps dance band. Today, the group features 18 of the most talented jazz musicians in the country and is one of the last touring big bands, earning an international reputation as one of the finest and most versatile big bands of its kind.
Through the years, the Airmen of Note has presented its exciting brand of big band jazz to audiences throughout the United States, in dozens of countries in Europe and Asia, as well as back home in the Washington, D.C., area. The band has collaborated on recordings and performances with such jazz luminaries as Dizzy Gillespie, Joe Williams, Sarah Vaughan and Nancy Wilson.
In 1990, the group established the Jazz Heritage Series (featured on NPR and jazz radio, satellite and Internet stations), featuring concerts with legendary icons of jazz. Artists who have participated in the series include Clark Terry, Phil Woods, Kurt Elling, Paquito D'Rivera, Nicholas Payton and Karrin Allyson, among others.
The band's Glenn Miller sound has remained a central ingredient in its musical heritage, but through the years it has also adopted a more contemporary sound, due largely to a talented stable of staff arrangers. Today, Master Sergeant Alan Baylock, the group's current chief arranger, helps maintain a commitment to tradition and cutting edge innovation.
In 2010, the Airmen of Note celebrates 60 years as one of the nation's most revered musical organizations.
Brian Stokes Mitchell
Black History Month Performance
Thursday, Feb. 17, 2011, at 8 p.m.
Paid performance; tickets required
Parking TBD

Dubbed "The Last Leading Man" by the New York Times, Stokes has enjoyed a rich and varied career on Broadway, television, film and recordings, along with appearances in the great American concert halls. Stokes is a true Renaissance man, having worked as an actor, singer, dancer, voice-over artist, author, arranger, orchestrator, conductor and record producer. A powerful baritone, he will perform a variety of song selections during his SU appearance.
His Broadway credits include Tony and Helen Hayes award-nominated and -winning performances in "Man of La Mancha," "Kiss Me Kate" and "Ragtime," among others. In 1998, he joined Helen Hayes, Sir John Gielgud, Alec Guinness and James Earl Jones by becoming recipient of the Distinguished Performance Award from the Drama League, the nation's oldest theatrical honor, for "Ragtime."
Television credits include memorable recurring roles as Hillary's bungee-jumping newscaster boyfriend on "The Fresh Prince of Bel-Air" and obnoxious upstairs neighbor Cam Winston on "Frasier." As a voice-over artist, Stokes has appeared on many animated TV shows. He has also appeared in several televised concert performances.
As a recording artist, Stokes has appeared on numerous cast albums and has guested with various artists. In 2007, he released a self-titled album as inaugural artist on the Playbill Records label. In addition to singing, Stokes produced the album and also wrote many of the arrangements and orchestrations.
As an author, Stokes wrote the forward to "At This Theatre" (Applause Books, 2002), contributed to "Hirshfeld's Harlem" (Glen Young Books/Applause, 2005) and co-authored "Lights on Broadway: A Theatrical Tour from A to Z" (Blue Apple Books, 2009), a colorful theatrical primer for young people that includes a special debut recording of the song, "I Was Here," rewritten especially for the book. Stokes donated his portion of the royalties to benefit the Actors Fund, a human services organization that helps anyone in crisis who has made their living in show business or the performing arts. He has been president of the Actors Fund since 2004.
He performs weekly as both a soloist and guest star at concerts all over the United States, and this summer starred as Frank Butler with Patti Lupone in "Annie Get Your Gun" at Ravinia. He currently stars with LuPone, Laura Benanti, Sherie Rene Scott and Justin Guarini in the Lincoln Center Theater production of "Women on the Verge of a Nervous Breakdown," a musical adaptation of Pedro Almodóvar's 1988 film of the same title.
In addition, Stokes works with numerous charitable organizations from the March of Dimes to the USO.
Tickets and discount passes
The cost for individual tickets for events in the Pulse season (with the exception of the USAF Airmen of Note performance, which is free but requires a ticket from the Schine Student Center Box Office) is $5 for students with an SU or SUNY-ESF I.D. (limit one for the Marsalis performance); $16 for SU faculty, staff, alumni and Pulse Partners (and Family Weekend registrants for the Marsalis performance); and $20 for the general public.
All tickets can be purchased at the Schine Box Office or online at http://students.syr.edu/boxoffice/ with an additional $1.25 processing fee. For more information, call the box office at (315) 443-4517.
Pulse discount passes are also available. There are three pass levels: General Admission, SU Faculty/Staff and SU Student. Passes can be purchased at the Schine Box Office. For more information, call 443-4517.
To subscribe for a pass, e-mail your name and pass selection to pulse@syr.edu. Once confirmed, passes can be purchased and picked up at the Schine Box Office. Subscription deadline for passes is Oct. 1.
General Admission Pass: $40
• One ticket to Lar Lubovitch and Brian Stokes Mitchell
• VIP seating for both performances
• Invitation to two post-performance receptions
SU Faculty/Staff Pass: $32
• One ticket to Lar Lubovitch and Brian Stokes Mitchell
• Invitation to two post-performance receptions
• Choice of one Pulse Partner event to SU Drama, Syracuse Stage or Syracuse Opera; subject to availability at time of purchase
SU Student Pass: $10
• One ticket to Lar Lubovitch and Brian Stokes Mitchell
• Invitation to two post-performance receptions
• Choice of two Pulse Partner events to SU Drama, Syracuse Stage or Syracuse Opera; subject to availability at time of purchase
Pulse is a model program, recognized for quality, diversity, innovation and collaboration, while it celebrates and expands the cultural climate of Syracuse University. The series seeks to raise the caliber of cultural programming while increasing the number of participating students. Pulse programs the best offerings of local arts organizations with performances of internationally renowned visiting artists.