Syracuse Student Sandbox renovations garner a resounding 'awesome'
The renovations are complete and the student start-ups have all moved into their brightly colored spaces at the Syracuse Tech Garden. The spacious, revamped room has been described as "awesome."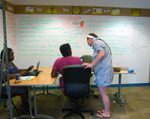 "It's a really cool space," says Colby Morgan '10, G'11, an alumna and current graduate student in Syracuse University's School of Information Studies (iSchool) and founder of SafeSip, a student company working on developing a straw that could detect date rape drugs in alcoholic beverages. "It brings a lot of creative energy, and we want to come to the office."
The Student Sandbox, home to 12 drastically different student start-up companies, officially opened on June 18 after extensive renovations totaling $125,000. The renovations were funded by a grant secured by New York State Assemblyman Al Stirpe.
The Student Sandbox is part of the SU Student Start-Up Accelerator, a collaborative venture between the University and the Syracuse Technology Garden that provides the environment and resources necessary to launch new companies through a series of courses, the Sandbox incubator space and Orange Tree Funding.
"It was money well spent," says SU Entrepreneur-in-Residence John Liddy, who serves as the advisor to the students. "The renovations transformed an empty room into a collaborative workspace environment ideal for the creative entrepreneurs working there every day."
"More cutting-edge corporate landscapes like Google and Yahoo are realizing that millennials want, and even require, physical space that is different than what we're used to as a typical corporate environment," says Chris McCray, executive director of SU's Collaboration Laboratory (COLAB) and one of the principal advisors on the renovations. "We wanted something the students could relate to that didn't feel like an academic or corporate space."
McCray worked closely with interior design students at SU as part of a studio class that offered real-world experience.
"The mission of COLAB is to engage students in the local community, as well as the corporate community," he says. "For me, the goal was to make it more of a student project."
Students in the interior design studio course presented ideas and mock-ups of the space to Liddy and Paul Brooks of the Syracuse Technology Garden. The two students who presented the best idea, Nicole Lamison and Maureen Baker, were awarded a $250 cash prize for their designs, which were incorporated into the final renovations of the Sandbox.
"In thinking of a space, we wanted something the students would really want to spend time in," McCray says. "They should be able to work in their teams but also have a chance to collaborate with the other groups."
McCray says that Liddy and Brooks were originally unsure of the vibrant colors—green, pink, orange, blue—randomly assigned to different walls and spaces, but the students responded very well to it.
"It's nice looking. Not just a cubicle, but covered in colors that make you want to be there," says iSchool senior Gerald Decelian of DreamFetcher, a start-up company that matches people to their ideal jobs.
"This is a generation of students who grew up with social media and instant messaging," McCray says. "Their synapses are firing much faster, and they're able to have real-life conversation while instant messaging their friends on their phone. People need the ability to take a break from work and have a timed distraction."
The students are also able to stop in and see each other. There are no doors within the rooms, just thin partitions that double as white boards on which the students can draw, brainstorm and organize their ideas.
"It's an interesting dynamic in how they use the white boards," Liddy says. "They have hundreds of square feet to write on, and they all want more."
GraFighter founder, iSchool alumnus and current graduate student Dave Chenell '10, G'11 agrees. "You feel like you're doing better, bigger things when you have the space and all the white boards."
It was important to McCray that the students get an opportunity to pause when they're working and to ensure that the creative juices keep flowing. The start-up social gaming website GraFighters donated a ping-pong table, and the students are eagerly awaiting the installation of a Wii room.
"It's really great and conducive to doing work but gives you an opportunity to take a break if you need," says recent Newhouse television-radio-film program graduate Alex Piliouras '10 from the humor website CuseMyCampus.com and T-shirt design company Squeeze My Tees.
"After three or four sentences, if you're stuck, you go play ping pong or talk to other people," Decelian says.
Piliouras' business partner, recent SU biology and psychology graduate  Brian Weinreich '10, believes the constant interaction is very beneficial to CuseMyCampus, a website that provides snarky commentary on SU and the surrounding area. "People come by with story ideas for us," he says.
Though idea sharing, guidance and work breaks are all beneficial for the work environment, the existence of the space also solidifies for the students that they are actually working to build something.
"Having an actual space, to come here and do work as opposed to doing it while watching TV," Weinreich says, "makes it all real."