Arts & Culture
SU drama alumnae take production to Fringe Festival
Almost two years ago, six friends studying drama at the Globe Theatre in London through Syracuse University Abroad realized they had more than just theater in common—they all had a passion for Shakespeare and they wanted to perform his work using their newly acquired techniques. The group has recently left for Scotland, where they will perform their self-produced and -directed, all-female version of Shakespeare's "The Tempest" at the famous Edinburgh Fringe Festival.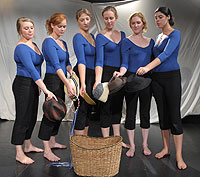 Known as the Tempest Ladies, the actors—Stella Berg, Laura Borgwardt, Dana Clinkman, Holly Hart, Sarah Olbrantz and Jana Stambaugh—are all 2010 graduates of the Department of Drama in SU's College of Visual and Performing Arts (VPA). With the help of stage manager Chelsea Jennings '11 and faculty advisors Felix Ivanov and Tim Davis-Reed, they will perform Aug. 9-14 at Edinburgh's Quaker Meeting House.
"The way to do theater is to be seen—to do a show where an audience can see your qualities, your zest and your energy," says Berg.
The Tempest Ladies first mounted their production at SU in the Spring 2009 semester after returning from London. Because of their class schedule and other performance commitments, they were able to rehearse for only three weeks. They decided to perform all of the roles in the production themselves while also handling the direction as well as their own costumes, set, props and lighting. Choosing a simplistic concept, the group decided to wear blue leotards with black capri pants and change hats to denote each character.
To prepare for the Fringe, they began rehearsals during the Spring 2010 semester in New York City, where five of the actors were studying as part of the department's Tepper Semester, a rigorous artistic training program that immerses students in the city's theater culture and allows them to work closely with an accomplished faculty of professional artists.
"The Tepper Semester was immediate in helping us make connections, understand the business, stand on our own two feet and be a professional actor," says Olbrantz.
After graduating, the Tempest Ladies regrouped in Syracuse in July and recently wrapped up a month of rehearsals at the department's 936 Block Black Box Theater on East Genesee Street. Throughout both sessions of rehearsals for the physically demanding production, the Tempest Ladies and Jennings also handled the many logistical issues connected to performing at the Fringe, including applying to the festival; finding and applying to a venue; arranging travel and rehearsals; advertising; and costume, set and prop design.
With the help of the office of VPA Dean Ann Clarke, the group was able to secure college funding for the majority of the trip. For the venue, they received advice from Joe Whelan, an adjunct instructor of drama and Syracuse Stage publications director, who biennially takes a class of drama students to the Fringe to perform through SU Abroad (this year's production, "Shipwrecked! The Amazing Adventures of Louis de Rougemont as Told by Himself" will also be performed Aug. 9-14 at the Quaker Meeting House). SU Abroad also provided assistance with travel and living arrangements.
The Tempest Ladies are documenting their journey to the Fringe via a blog (http://thetempestladies.blogspot.com), photographs and a video, which is being shot by Davis-Reed. The group hopes to present VPA with both a book and the video so that other drama students can learn how to mount their own production and ultimately take it to the Fringe, all while learning how to work together and collaborate effectively and successfully.
"The experience of putting on a show together is invaluable for artists," says Jennings, who was simultaneously taking such applicable courses as "Communication and Conflict Resolution" as part of her major. "Communicating with one another has been a valuable experience. I'm not sure that all artists learn how to effectively communicate."
"We have refined observational skills and can sense each other's energy," says Stambaugh. "We feel safe in coming to each other to resolve issues. We bring it to the table, address it and move past it."
After the Fringe, the Tempest Ladies plan to relocate to New York City and pursue their theater careers while still maintaining an eponymous production company. Through their own fund-raising efforts, they will present a performance of "The Tempest" Off-Off-Broadway Sept. 23-27 at Roy Arias Studios on 43rd Street. Through these experiences as professional artists and entrepreneurs, the group has developed a positive, proactive attitude in a challenging industry.
"Instead of waiting for the business to let you in, you can contribute something to the business," says Hart.
For more information, about the Edinburgh Fringe Festival, visit http://www.edfringe.com/. For more information about the Tempest Ladies' New York City production of "The Tempest," e-mail tempestladies@yahoo.com.