Campus & Community
Campus labs give packaging waste a second life
Syracuse University laboratories are keeping one of the most "eco-unfriendly" materials out of the waste stream. The labs recently stopped trashing polystyrene foam, better known as Styrofoam, and instead are now giving the non-biodegradable packaging material a second life through recycling.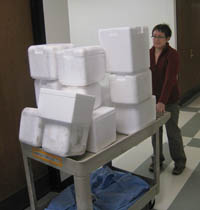 The new recycling program collects cold-shipping polystyrene boxes from campus labs in Link Hall, Bowne Hall, the Life Sciences Complex, the Center for Science and Technology and the Physics Building. Since the start of this year, 141 polystyrene boxes have been recycled. The bulky containers—most are slightly larger than a small cooler—are made from non-renewable petroleum products and otherwise would have been hauled off campus with the rest of the SU's refuse for disposal at Onondaga County's waste-to-energy facility. 
Shelley Kummer, post-doctoral research associate and instructor of biomedical and chemical engineering in the Syracuse Biomaterials Institute, was tossing out dozens of polystyrene boxes each month from Link Hall's Henderson Lab, where she works. She thought there had to be a better way to dispose of this material, which is very resource-intensive to create. After doing a little research, Kummer found a local company willing to take and recycle her lab's polystyrene. 
Kummer sent off a batch of Henderson Lab's polystyrene boxes for recycling late last year. Shortly afterward, the Syracuse University Recycling and Composting Committee (SURCC) got the current program up and running. 
"It was easy getting Henderson Lab going on polystyrene recycling," says Kummer. "As the boxes come in, any tape and labels are removed before they're set aside. Then the boxes are brought down to the loading dock once a month to get picked up. It really doesn't take any time at all." 
SU's Physical Plant picks up the boxes on the first Tuesday each month from the buildings' loading docks or other designated areas. "This new recycling pick up is going well," says Mark Gildemeyer, Physical Plant North Campus supervisor. "We deliver the boxes to the company for recycling the same day they are picked up from the buildings. It's pretty simple." 
"It is important we find new ways to use or recycle products on campus," says Melissa Cadwell, marketing manager for SU's Sustainability Division and SURCC chairperson. "Recycling polystyrene shipping boxes is one example of how SURCC members are looking at alternative ways for keeping these types of items out of our waste stream." 
For more information about campus polystyrene recycling or to join the University's Recycling and Composting Committee, contact SU's Sustainability Division at sustain@syr.edu.