Fourth annual PARK(ing) Day global event takes place Sept. 17 in Syracuse
On Friday, Sept. 17, parking spots in Syracuse along Marshall and East Genesee streets and in the Columbus Circle and Armory Square areas will be transformed into public art as part of PARK(ing) Day. The annual, one-day global event encourages participants to re-think how space is used in cities and inspires artists, activists and citizens to independently and simultaneously transform metered parking spots into temporary public art and parks.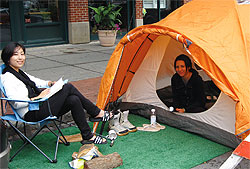 PARK(ing) Day was established in 2005 and brought to Syracuse four years ago by the 40 Below Public Arts Task Force (PATF). For the second year in a row, Syracuse University's COLAB—an interdisciplinary initiative based in the College of Visual and Performing Arts that brings students, industry and community together—is working with the PATF and the Connective Corridor to stage 20 PARK(ing) spaces around the city. Each spot will fill an 8-foot by 20-foot area.
PARK(ing) Day promotes creativity, civic engagement, critical thinking, unscripted social interaction, generosity and play. The initiative allows participants to reimagine the creative potential of city streets. Because organizers want to raise awareness about how much space is taken up in a city for parking, many of the spots are themed around public parks. Participants are encouraged to create spaces where they can meet and spend time together.
PARK(ing) Day is open to any organization or individual. To reserve a spot, contact Carlota Deseda-Coon at COLAB by Sept. 7 at chdeseda@syr.edu or (315) 443-1476. Visit http://parkingday.org or http://colab.syr.edu for ideas, inspiration and additional information.