Red House Arts Center, Syracuse International Film Festival present Iva Bittova
The Red House Arts Center and the Syracuse International Film Festival will open their new series "Wine, Women & Film" on Sept. 9 with an award-winning film from Czech director Alice Nellis starring Czech actress/singer Iva Bittova. Bittova won numerous awards for her role in the film "Little Girl Blue" (a.k.a "Tajnosti"), which will be shown at 7 p.m. in the Red House Arts Center, 201 S. West St., Syracuse. The film features the music of Nina Simone and follows a character (Bittova) lost in the middle of her very nice life.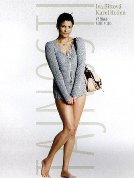 Bittova, who will speak with the audience following the film, returns to Syracuse after traveling the world singing and performing her original music. In recent years, she has been featured in three performances at Carnegie Hall. Bittova wowed the Syracuse International Film Festival audience with her acting and singing when she appeared live at the festival in 2007. Last year, she returned to Syracuse for a performance at Le Moyne College, again to rave reviews. Bittova combines innovative use of the violin with voice in a wide range of music gathered from her European heritage and her travels throughout the world.
An artist reception to meet Bittova will begin at 6 p.m. in the Joan Lukas Rothenberg Gallery at the Red House Arts Center. Patron tickets for the reception and film are $25 and can be reserved by calling SYRFILMFEST at (315) 443-8826. The reception is sponsored by members of the SYRFILMFEST '10 Board of Directors. Tickets for the film only (7 p.m.) will be available at the door for $8 ($5 students) and also from www.theredhouse.org or by calling (315) 425-0405. A glass of wine is included with each adult ticket.  
The monthly film series will continue on Oct. 14 with films from the Syracuse International Film Festival and featuring festival guest Robert Knott, screenwriter/actor ("Appaloosa," "Gods & Generals," "Pollock"), who will be the artist reception guest. The Oct. 14 event will be presented by Wegmans, which is the Red House Arts Center venue sponsor of SYRFILMFEST'10 programs.